A big year of football for Guyra boy
03rd Oct 2023
Eli McGinty has had a big year of representative soccer and there is plenty more to come for this Guyra boy.
2023 started with Eli being invited to tour London and Paris win Wanderers Australia. He then trialled for a goalkeeping position with the Northern Inland Academy of Sport Football Club (NIAS FC) in Tamworth and was selected to play for both the Under 13s and 14s sides.
The NIAS FC teams are made up of skilled players from across the region from Glen Innes, Inverell, Narrabri, Armidale and Tamworth. Each week Eli played two games, with home games played in Tamworth and away games in Newcastle.
They were up against some very skilled city teams, which meant travelling a lot of kilometres to attend games as well as training sessions.
Proud father Dan McGinty said that the season was one of the biggest yet with the competition being a massive 28 weeks, plus pre-season and Plate/Cup competitions in the mix.
"Eli did suffer a massive set back during the season at about week 9, with a knee injury," Dan said.
"This was disappointing, but also showed Eli's determination to get back into the teams. He spent the next 7-8 weeks recovering, working on his injury and still supporting his teams from the sidelines and at training sessions."
"Upon his return he slotted straight back into the teams, also gaining a spot in the Northern football division of the talented sports player program.
"Every two weeks he would get together with other athletes from Newcastle and Tamworth and receive specialised training and support with both the 13s and 14s, who both went to the grand finals as minor premiers."
Not many people get to play in two grand finals in the one year, however Eli took it in his stride helping the under 13s to a 3-2 over West Wallsend, with the under 14s losing 3-2 to the same club.
At the NIAS FC awards night held on September 23rd Eli was presented with two awards - most improved player and most dedicated.
Last week he took part in the Joeys Mini World Cup tournament which was held in Inverell and is preparing for his trip to Paris and London with Wanders Australia. The team will depart on November 30th for 18 days of touring and will play up to two games a day against local clubs, and attend training sessions with a few of the major professional teams in both London and Paris.
Eli and his team had a great time over in Inverell at the Rale Rastic Joeys Mini World Cup, making it to the Grand Final against the Touring team from Germany. Unfortunately they could not get over this team, and came home with the runners up trophy.
As part of this tournament over the week, there were talent selectors looking at the skills these young players bought to the field. 16 players are to be selected to represent Australia on a tour of Germany next year in June.
Eli was successful in capturing the attention of the talent scouts and has been named one of the 16 to join the touring team. So many achievements this young man has had in 12 months of playing football.
Eli would like to thank the community of Guyra for their support of helping him raise the funds for his tour via the go fund me page. He said that he has had his mind blown by what he has seen in the way of skills he has had to compete against, and what he has achieved and is looking forward to the coming years.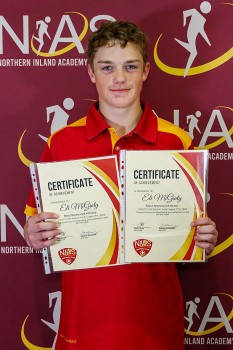 click for larger image