Spuds seal semi-final spot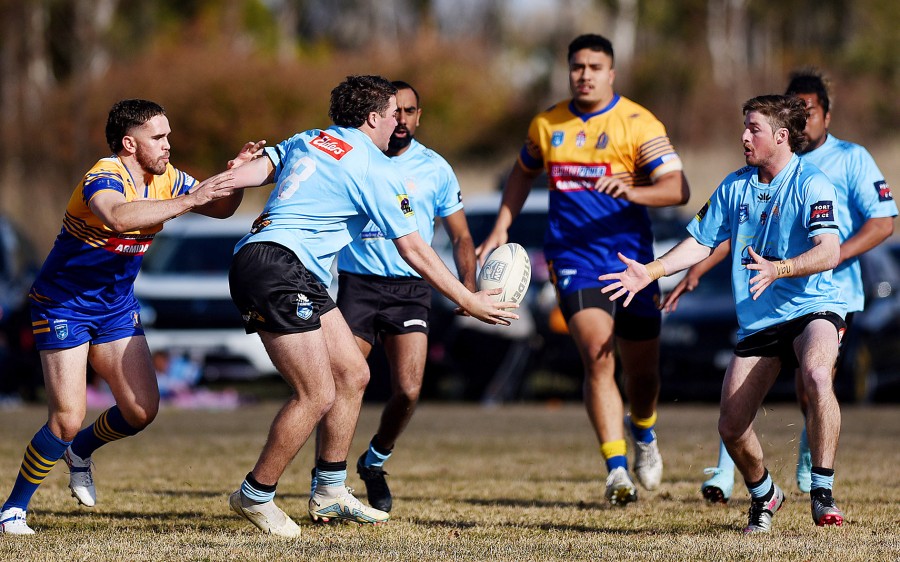 18th Jul 2023
.Guyra will host the Group 19 major semi finals on August 13 after the Super Spuds locked in the minor premiership at home on Saturday.
The Spuds fought out an incredible 34-28 win over second-placed Narwan to go five points clear at the top of the ladder with only two games to play.
It was a see-sawing game with neither side able to assert any dominance for long.
Narwan led 6-nil, but Guyra scored the next two tries through Jayden French and Terique Smith to lead 12-6.
The Eels responded with two of their own to take a 16-10 lead into halftime, only for Guyra to score first in the second half thanks to a brilliant try started by Alistiar Connors and finished by Mark Walker.
Narwan hit back and then a Dylan Sutton try after a long break by Hayden Strong began Guyra's best period in the game.
That try made it 22-all, but further scores to Wes Kelly and Jayden French gave Guyra a 34-22 lead with time running out.
Narwan hit back one more time, but the Spuds snuffed out the comeback with some last-minute tackling.
Connors took the three clubs points, Beau Orchard picked up two and Jayden French one.
It was the only win of the day for Guyra, yet no games were lost.
The Spudettes began the day with a 10-all scoreline, their fourth draw of the season.
Kiarna Landsborough and Talia Landsborough scored Guyra's tries back to back in the second half following a scoreless first half.
Narwan scored first and last to lock it up at the end.
Guyra's club points went to Kiarna Landsborough (3), Ash Richardson (2) and Kyiesha Landsborough (1).
The under 18s game finished with the same result as Narwan surprised the rusty Spuds with a 20-all draw.
Ben Reinke crossed for Guyra's first after Narwan took an early lead, and Archie Dowden then went over from dummy half to make it 8-6 in Guyra's favour.
The Eels scored against the run of play to lead 10-8 at halftime before Guyra opened the second half with Dowden scoring his second.
Narwan scored again to lock it up at 14-all before Rave Brazier busted several tackles on the way to the line and Oscar Atkin converted for a 20-14 lead.
The Eels didn't go away and found an equaliser again late in the game and the points were split.
Robert Sisson took the three points, while the other points were split amongst Riley Campbell, Brodi Campbell and Archie Dowden.
Guyra plays at Glen Innes next Sunday, but plans are already underway for hosting the major semis.