Rugby League honours its best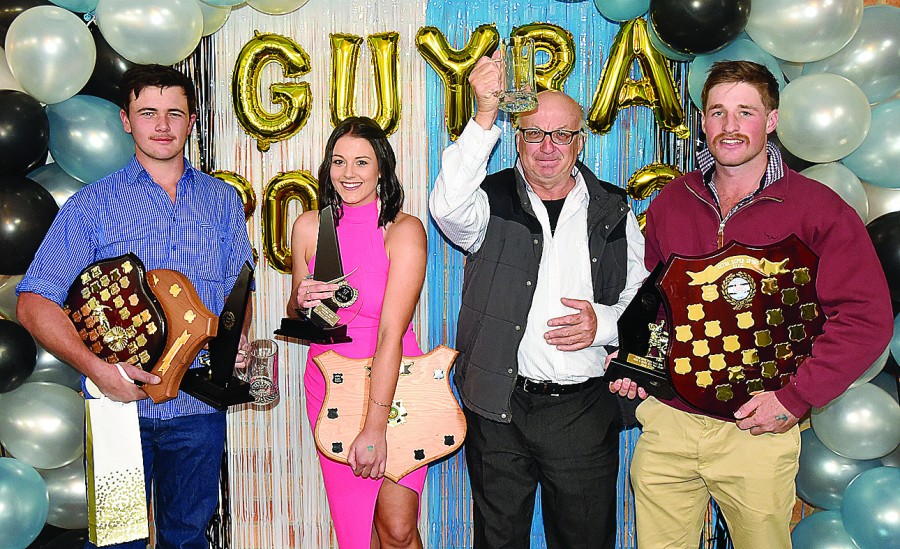 12th Sep 2023
Guyra Rugby League honoured its best at Saturday night's club presentations.
More than 100 people attended the event at the Bowling Club to celebrate a great year for the club, which included winning the Group 19 club championship and performing well in all three grades.
Mrs Noreen Williams presented the best and fairest A grade award, the Bill Williams Memorial Shield, to Beau Orchard for the second straight time. He also won the most consistent award.
Billy Youman was named players' player, rookie of the year and best forward to go with his Group 19 rookie of the year prize.
Mark Walker (most tries), Alistair Connors (most points), Corey Torrens (best back), Ben Mann (most improved) and Patty Ketley (coach's award) all collected trophies for their efforts, while the Peter Little Memorial Shield was presented to Garth Walls.
Following their win in the Leaguetag plate grand final, the Spudettes picked up more silverware, including the Beryl Copeland Memorial Shield for best and fairest, which was won by Ashleigh Richardson.
Players' player was co-captain Sharnae Smith, Kiarna Landsborough was both leading try and point scorer and rookie of the year went to Lorissa Wilson.
Co-captain Macey Clarke (most valuable), Jamiah Jarrett (most consistent), Shaynia Duncan (most improved), Rachel Coles (coach's award), Amanda Brooks (best tagger) and Selina Surawski (most dedicated) also took home trophies.
In the under 18s the best and fairest award was shared between Robert Sisson and Rave Brazier.
The players' player award went to Rowdy Laidlaw, while Oscar Atkin added to his Group 19 awards with the most tries and points trophies.
Rowdy Laidlaw and Angus Brazier also collected coach's awards and Archie Dowden was most consistent.
The club also presented a new award, known as the Iron Man and Iron Woman awards for players voted as all-round great contributors on and off the field and these went to Dylan Sutton (A grade), Taylor Waters (leaguetag) and Angus Brazier (U18s).
Angus Brazier also won the club person of the year for his contribution to the club off the field, while Willy Jones was volunteer of the year.
There was also a special presentation to Taylor Waters, Beau Orchard and Corey Torrens for their long service to the club as players.
The next club event is the annual general meeting on October 29 from 4pm at the bowling club, which is the first step towards keeping the club alive and thriving in 2024.