A day to remember for under 12s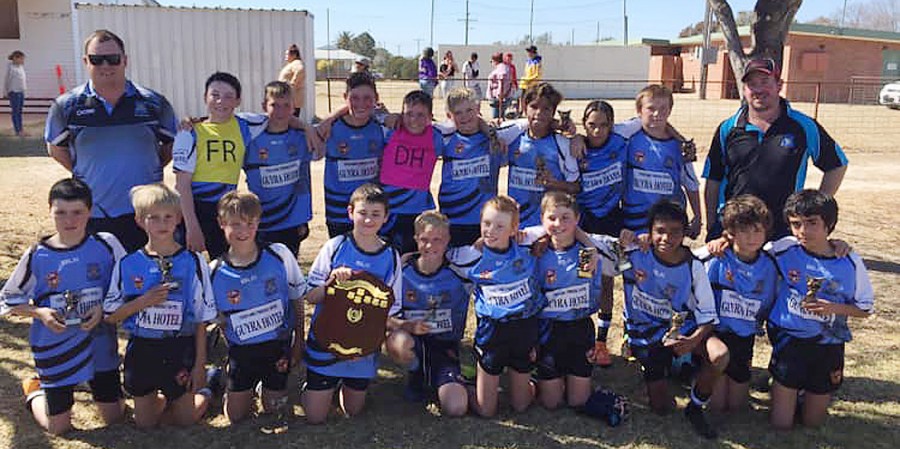 27th Aug 2019
Saturday August 24th, 2019 will be a day that 18 Guyra boys will remember for a long time. The under 12 Super Spuds were in Ashford to defend their title in the grand final. The Guyra team oozed experience with this being the third grand final for some of these boys, the second for a lot of the others, and the first for a few.
They ran onto the field to meet a great Warialda side which has kept Guyra honest all year with some tight games throughout the season, so they boys knew that they would have to be at their best to beat them.
The Guyra boys were first to post points taking the score to 4 nil, however it didn't take long for Warialda to hit back taking the lead 6-4. Guyra were next to post points, this time getting the conversion and hitting the lead at 10-6, however just before half time Warialda scored again to level things up at 10 all.
The second half saw both teams come out hard, looking to post some points on the board. Guyra's defence was outstanding and their fitness showed as the Warialda boys couldn't keep up. With three minutes to go Guyra crossed the line again taking the lead 16-10, and bringing the crowd to their feet.
They stepped their defence up to another level but a late penalty to Warialda in the last seconds of the game had everyone on the edge of their seats. Their experience showed and they kept their heads in the game keeping Warialda in their own half till the siren.
Coaches Dean Heagney and Luke Blyton would like to thank Warialda junior league players and coaches for a great game and Ashford junior league for a great day. They would also like to congratulate the boys on a great game and for their sportsmanship, you all played as a team and done Guyra Junior league and your town proud.
Presentation Day is this Saturday at 1:00pm at the Sporting Complex.