Super Spuds feel the heat at Tingha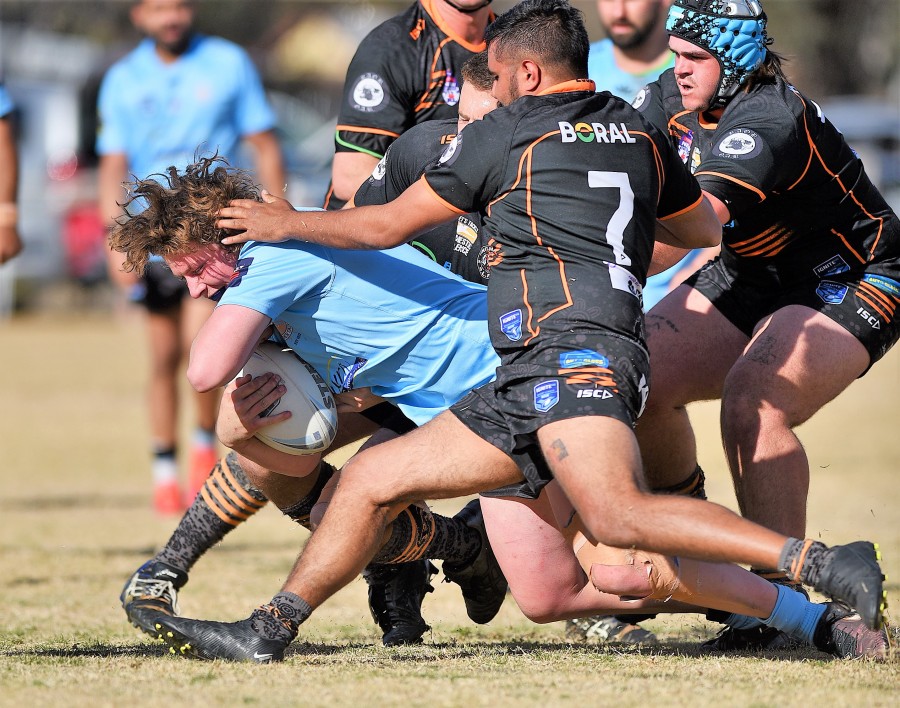 01st Aug 2023
The Super Spuds warmed up for the major semi final at Tingha on Sunday, but not in the way they wanted.
It was very hot for football and it took its toll as the Spuds started on fire and then faded at times.
Billy Youman scored two tries before Tingha knew what hit it, but then scored one of its own against the run of play.
Terique Smith strolled over from a scrum play and then Youman dragged three tacklers over for his third to set up an 18-6 lead, but then another lapse saw Tingha run in two tries before halftime to cut it to 18-16.
Jayden French steamed into space early in the second half and trampled the fullback to score, but Tingha hit right back and began a tit for tat battle that lasted the rest of the game.
Beau Orchard was next to score for Guyra, but that sparked Tingha into a big comeback with three tries in a row putting the home side up 36-30.
It took Youman's fourth of the day to lock it back up and then a good run from Mark Walker to put Guyra back in front.
Corey Torrens then sealed the result with one of his own, before the Tigers finished the scoring in the dying seconds to make it 48-40.
Youman was a clear man of the match again, followed by Orchard with two club points and Torrens one, while several other forwards had big games.
Earlier the under 18s demolished an under-manned Tingha 66-4 with 12 tries along the way.
Malekai Landsborough scored a hat-trick and Brodi Campbell, Oscar Atkin and Robert Sisson posted doubles.
The others went to Riley Campbell, Archie Dowden and Cooper Wilson.
The leaguetag went the other way with Tingha remaining undefeated with an 18-nil victory, but not without a fight from the Spudettes.
It was one of Guyra's best performances against a very strong team and although they couldn't get a try it was a spirited effort from the whole side.
Taylor Waters (3), Kayla Kim-Moran (2) and Selina Surawski (1) scored the club points.
Guyra will host the major semi-final in two weeks with the A grade Spuds up against Narwan and the 18s facing Glen Innes.
The club is looking for more volunteers for this day as it will be a big one at the New Red Hill.
Anyone who would like to help out can contact the committee.