Sports reports January 19th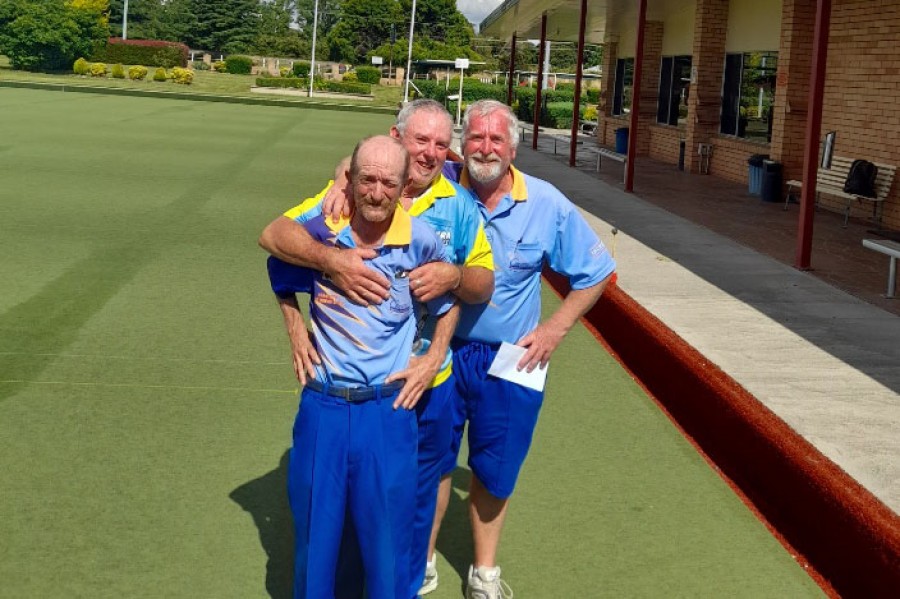 19th Jan 2022
Men's Bowls
Only two games played at the weekend. On Saturday Mallie Walls and Logan Beechey played Steven Sole and Robert Walls in the opening round of the club pairs . At the halfway mark Mallie and Logan had a one shot lead, and after 21 ends Steven and Tapper came out in front 27 - 14.
On Sunday the final of the triples was played with David Wilcox, Murray Bourke and Paul Johnson taking on Michael Shiner, Col Stanley and Andrew Sparke . Although David's team won 11 of the 21 ends Michael's team had a couple of big ends to win 31-20.
A big weekend of bowls coming up with the Top of the Range fours carnival being played, with $5800 up for grabs the quality of the bowls will be outstanding.
Jack.

Men's Golf
On Sunday fourteen golfers travelled to Inverell to contest the NEDGA pennants. With 116 golfers from the New England district taking part, the scoring was high quality. The Guyra players did their best bringing home the Nett pennant with the team of Pat Grills, Mick Jackson, Bob Constance, Matt Jackson, Brock Reeves, Neil Paine and Harry Purvis. The scratch pennant was won by Armidale, with Glen Innes was runner up in both divisions. Next Sunday an individual stableford will be played for a club voucher.
The Albatross.
Ladies' Golf
Last week the ladies played a Par Medal sponsored by Debbie Heffernan. Pip White was the winner on a countback from Jenni Jackson. Nearest the pin winners were Julie Walker on the 7th hole, Vicki Reeves on the 9th hole and Karen Oehlers on the 18th hole.
This week is a Stroke and Putting Competition along with the 1st Golf NSW Medal round. Next Wednesday is Australia Day. The Club is holding a Bring a Friend Ambrose for Ladies, Men and Junior golfers.
Players who are interested to try their hand at the greatest game of all, are invited to roll up for a 10.30 am start. Phone the Club if you need more information. All welcome.
Birdie
Vets Golf
Last week January 11, we had a good turnout of 15 players who enjoyed the much improved course. The work on the drainage, as well as a bit drier weather, has made a great change to the course and it is nice to be able to play both ends.
It was also good to have a couple of younger visitors play with us. We trust Mal Gaugroger and Peter Presnell enjoyed the day. A 4 ball Stableford was played with the winners Phil Devlin and Wal Chapman scoring 44 points. Runners up were Neil Paine and Paul Redden on 41.
Nearest the pins went to Neil Paine on the 7th, Ian Taylor the 10th and Mal Gaukroger chipped in on the 18th. Coming up next week on Thursday January 27 we will be travelling to Glen Innes for the first round of the Vets Pennants. Please get your names in early.
A Vet