Guyra Central through to next round in Rugby League State Knockout Competition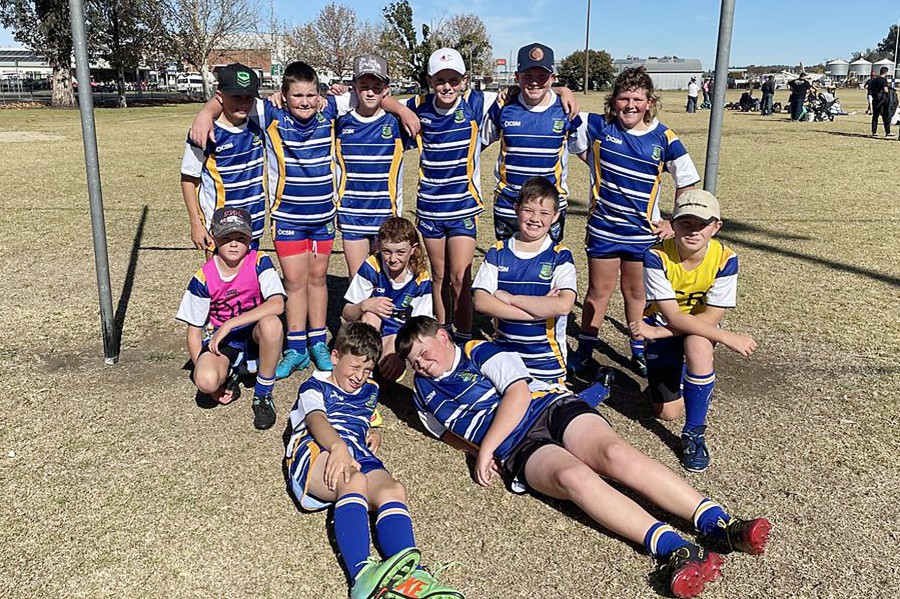 07th Jun 2023
On Wednesday May 31st the Primary Rugby League Football team travelled to Inverell to compete in a GALA Day. Our first game was against Armidale City Public School. Guyra Central School (GCS) had a two try lead before Armidale City Public School scored. At half time GCS were still in the lead but knew that they still had to play at the same intensity to win. At full time the score was 32-24 to GCS. Try scorers for the game - Lincoln Atkin, Beau Wilson, Max Lockyer, Ryan Vidler and Billy Ryan scored two trys.
This meant we advanced to the next game against Moree Public School. From Saturday competitions GCS boys knew this game would be tough, and already had a disadvantage with only 12 players. The boys knew that they would need to be strong in defence and not let the quick Moree players in. Moree Public School scored first, and Guyra went try for try until half time, where the score was 14-14. Guyra Central came out from the break with some hard hits from Ryan Vidler, leading to a head knock, dropping Guyra to 11 players until he was cleared. Guyra Central School continued to go try for try until the last minute where Lincoln Atkin ran the ball and scored in the corner. The buzzer went with the score 28-24 to Guyra Central School. Try scorers for the game were Beau Wilson and Billy Ryan each scored one try. Max Lockyer and Lincoln Atkin both scoring two trys.
All boys played with great sportsmanship shaking hands and cheering for the other team at the end of the game. Winning both games Guyra Central School advance to the next round in Bingara on the 16th June 2023.
Thank you very much to Ainsley Fletcher and Adrian Cameron for coaching and driving the bus, and Peter Presnell doing some drills at school before the game. Guyra Central School have had several students attend NSW championships this term. Brodi Campbell travelled to Wollongong during week six to participate in the CHSSA NSW Opens Rugby League State Championships and Sammy-Rose Dowden travelled to Sydney to play touch in the PSSA NSW Touch State Championships.
This week Guyra Central School have Ryan Vidler and Brax Hutton playing in the PSSA 11s Rugby League State Championships in Liverpool. Lincoln Atkin will participate in the PSSA Opens Rugby League State Championships. This is a fantastic sporting opportunity for our students. Congratulations Brodi, Sammy-Rose, Brax, Ryan and Lincoln for selection in the North West representative teams.