Spuds claim trifecta against the Boomerangs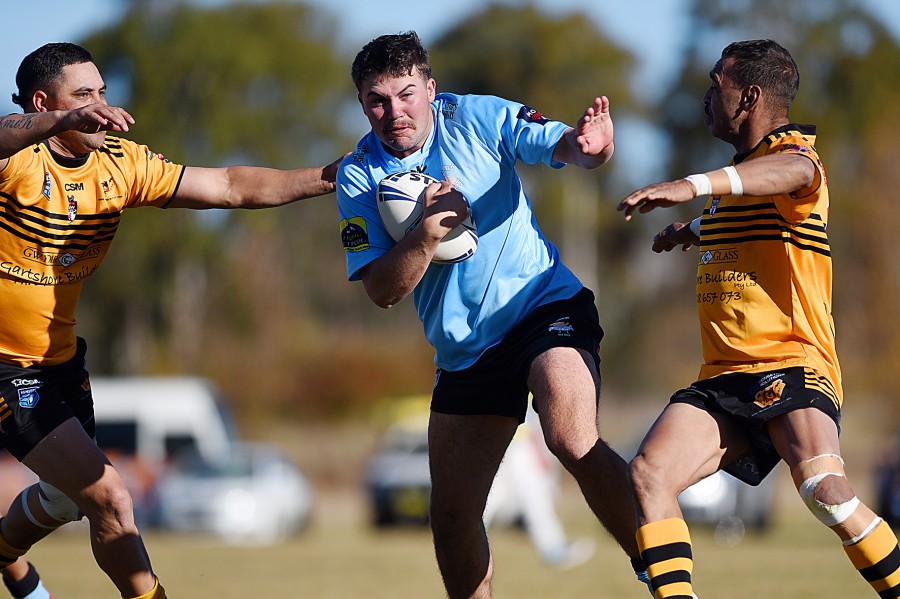 31st May 2023
Three wins, including an A grade top of the table success over the Moree Boomerangs, made last Saturday one of Guyra's best days on the footy field in a long time. Not only did the Super Spuds get back to winning ways and push two points clear on top of the A grade ladder, but the under 18s are also leading their competition and the Spudettes put back to back wins together to move into positive territory for the season.
The first half of the A grade saw Guyra kick out to an incredible 34-10 lead, thanks to tries to Mark Walker (2), Corey Torrens, Terique Smith, Tahmani Landsborough and Jayden French.
Moree was expected to hit back and it did but French's second try and one from Alistiar Connors established a 46-16 advantage that seemed out of reach.
However, the Rangs had other ideas and three quick tries cut the score to 46-34 and it took an individual charge and some busted tackles from Corey Torrens to seal the 52-34 win.
Taylor Brennan (3), Walker (2) and Torrens (1) shared the club best and fairest points, but there were huge performances across the park.
In the leaguetag game the Spudettes made hard work of Moree with first half tries to Kyiesha Landsborough and Rachel Coles providing a 10-nil lead at halftime, only for the Rangs to score first in the second half. The Guyra attack finally found success late in the game when Ryla Munro-Cutmore and Kiarna Landsborough split the line and scored two more tries to finish a 22-4 win.
Ash Richardson (3), Kiarna Landsborough (2) and Sharnae Smith (1) were the recipients of the club points.
The under 18s clash with Inverell went the same as the week before with Guyra winning 34-6 this time. Ryan Jones, Archie Dowden and Keith Landsborough crossed in the first half for a 16-6 lead and Harrison Brazier pushed that lead out to 22-6 soon after the resumption.
Captain Oscar Atkin then ran in two tries of his own and landed his fourth and fifth goals to end the game as man of the match.
Robert Sisson picked up two club points and Brodi Campbell one.
This Saturday the three Guyra teams face Narwan in Armidale.