Narwan prove too strong for Guyra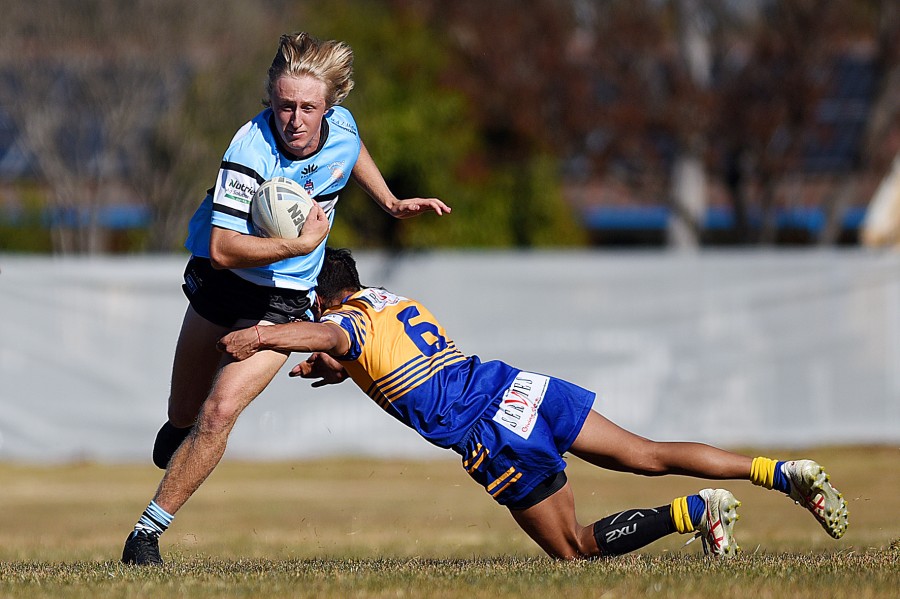 07th Jun 2023
The Super Spuds' recent up and down form struck again as they fell short against Narwan on Saturday, but the league tag and under 18s games ended with better results.
Guyra scored first through Mark Walker, but the Eels then went back to back to lead 12-4.
Corey Torrens put Walker away for his second to close the gap, but the next period of the match was all Narwan with two more tries to make it 22-10 and then another just after halftime to push it out to 28-10.
Suddenly the Spuds found themselves in unfamiliar territory and having to fight back.
It started with a try to Hayden Strong and continued when Dylan Sutton stepped his way over.
Strong scored his second to cut the score to 28-24, but Guyra's chance to snatch the lead came unstuck and it was Narwan that posted the next points.
Alistiar Connors scored late to get it back to 34-30, but it was too late for a match-winner and that's how it stayed. Beau Orchard was Guyra's best and fairest with Jayden French (2) and Dylan Sutton (1) gaining the other points. The Spuds are still on top of the table but it is now getting crowded up there.
Earlier, the Spudettes fought out a four-point win of their own to move into third place.
Kiarna Landsborough scored both of Guyra's tries, one in each half, to help the Spudettes to a 10-6 win – their third in a row. Kayla Kim-Moran (3), Ash Richardson (2) and Sharnae Smith (1) scored the club points.
The under 18s game also went Guyra's way, but more convincingly.
After Narwan stunned the young Spuds to lead 10-4, following an early try to Malekai Landsborough, Archie Dowden, Tom Lockyer and Ben Reinke posted tries to get Guyra back on top at 20-10 at the break. Oscar Atkin was first to score after halftime, Archie Dowden added his second, Robert Sisson found the line and Atkin ran in his second to complete a dominant second half and five Guyra a 42-10 win.The front row combo of Angus Brazier (3), Rowdy Laidlaw (2) and Archie Dowden shared the club points.
The Spuds get the long weekend off and then host Warialda on June 17. On that day the club will be selling $5 doubles on State of Origin II with a chance to win $500.