Guyra Central School brings home State Title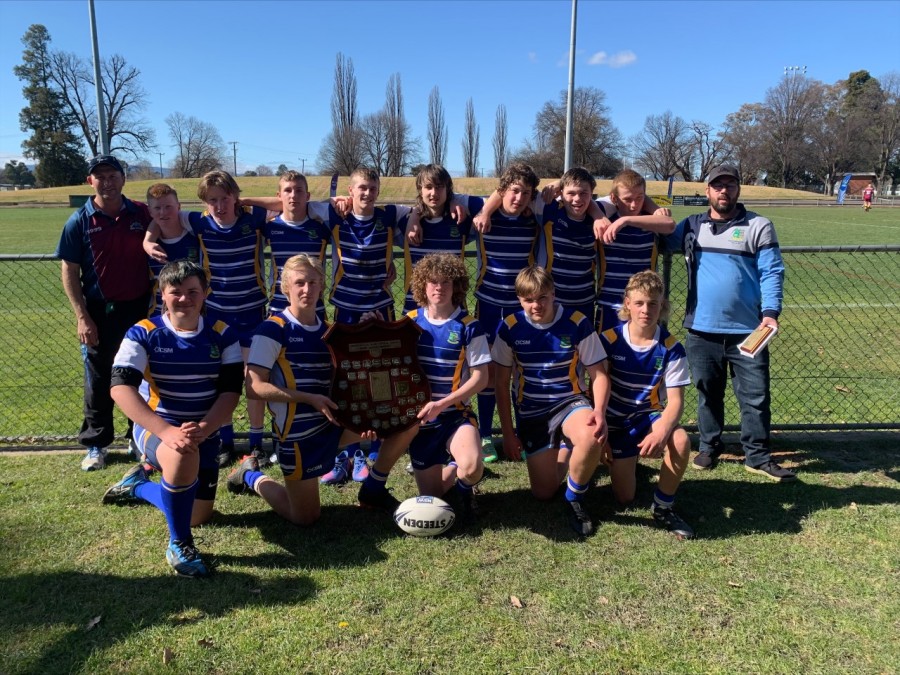 24th Aug 2022
Guyra Central School's under-16 Rugby League Team have taken out the NSWRL Small Schools State Championships for the second time, defeating the tough Cootamundra High School 30-20.
The under-16 team (coached by Malcolm Gaukroger and Jason Allwood) secured their position in the State final after defeating Tenterfield High School in the preliminary finals 42-4 late in Term 2.
Our Under-16s team (coached by Jeremy Galvin) set off to the familiar Bathurst Carington Park on Tuesday
9th August 2022. Many of the players had already experienced success after becoming the Under-13 NSWRL Small Schools State Champions in 2019 and were looking forward to facing Cootamundra in the finals on Wednesday.
It was an exciting game to witness with Guyra Central School dominating the first half. Although Cootamundra were first to cross the try line, Guyra Central hit back with a try each from Archie
Dowden and Oscar Atkin, finishing the first half of the game 10-4.
Guyra Central went into the second half just as hard in defence. Archie
Dowden and Oscar Atkin each found the try line again and Rave Brazier's hard work paid off, making several line breaks and finally crossed the line adding another 4 points to the score.
Cootamundra High School hit back crossing the line several times to bring the score board to 26-20. Team Captain, Brodi Campbell kept Guyra Central's spirits high with his positive on field talk and, with only minutes left on the clock, Jason Mowbray sealed Guyra Central's win crossing the line with a final try
securing the title of NSWRL Small Schools State Champions for Guyra
Central School.
Congratulations to Archie Dowden who was named Man of the Match.
Oscar Atkin and Archie Dowden both spoke highly of their teammates' performances; they both agreed that their younger players rose to the occasion:
"Darcey Heagney was outstanding in defence, Jason Mowbray and Harry Purvis worked hard all game. Cooper Brennan stepped up and took some big hard runs. We all played well, we all did our jobs on the field. There was not one player who should be disappointed in their performance. We appreciate Mr Galvin, Mr Goodwin-Hill and Adrian for stepping in and coaching our team for the finals. Everything Mr Galvin, Mr Goodwin-Hill and Adrian said was positive. It really helped us win the game!"
Guyra Central School would like to take this opportunity to congratulate each of our under-16 students on this amazing achievement.
Additionally, we would like to acknowledge Mrs Linley Ryan, Mr Jeremy Galvin, Mr Angus Goodwin-Hill, Mr Adrian Cameron, Mrs Louise Dowden, Mr Malcolm Gaukroger and Mr Jason Allwood for their hard work and commitment to get our students to the NSWRL Small Schools Championships.