Under 12 Super Spuds grand final bound
21st Aug 2019
Guyra's under 12 rugby league team will be the only team representing the club in this weekend's grand finals. They will take on the Warialda Wombats at Ashford.
Despite a home ground advantage, and their best efforts, the Junior Leaguetag team and the under 14s have bowed out of the competition.
In the preliminary finals played in Guyra on Saturday, the girls were first cab off the rank and although they didn't get the win they played with heart and determination and never gave up, going down 34-10 in the game against Inverell.
The under 14s put on a strong performance in front of their home crowd, but injuries and lack of numbers saw them fall short of Inverell 26-18.
Guyra players Harry Lockyer, Bailey Wilson and Myles Williams will also be playing in a grand final match as part of the Glen Innes under 16 side against the Inverell Hawks.
PLAYER PROFILES
Ethan Tribe -Position: Wing Favorite team: Cowboys
Ethan's first year of football, never misses training, one of the teams most improved players
Ryan Williams Position: Centre/ Fullback Favorite team: Storm
Ryan is Mr Reliable in the backs and loves to get into some open space
Lachlan Clark Position: Front row Favorite team: Cowboys
Lachlan is a hard running forward who gives his all every week
Sam Surawski Position: Wing/Utility Favorite team: Roosters
Sam just loves his football and is always ready for a hit up
Darcey Heagney Position: Five eight Favorite team: Sharks
Darcey is one of the hardest workers on the field, you won't see a tackle this kid isn't part of.
Tommy Mitchell Position: Utility back Favorite team: Storm
Tommy has backed up from the under 10s to help out this year. He gives his all every time he is on the field
Max Blyton Position: Second row/utility Favorite team: Cowboys
Max loves to run the ball hard and has a bit of footwork as well
Jye Mckellar Position: Wing/center Favorite team: Rabbitohs
Jye enjoys some open space and works hard for his team
Brendon Landsborough Position: Halfback Favorite team: Dragons
Brendan is exciting to watch, a great ball player, never backs down
Shakel Irving-Frost Position: Wing/center Favorite team: Knights
Shakel runs hard and loves to get the ball in the open
Rave Brazier Position: Second row Favorite team: Cowboys
Rave is a wrecking ball in attack and defence
Riley Melmeth Position: Lock Favorite team: Knights
Riley is a true work horse always gives 100% for his team
Billy Lockyer Position: Utility back Favorite team: Sharks
Billy has backed up from the under 10s this year and is a great team player
Tommy Ryan Position: Hooker Favorite team: Raiders
Tommy can tackle anything, loves a sneaky run from dummy half
Cooper Wilson Position: Front row Favorite team: Raiders
Cooper leads from the front. He runs hard and tackles harder
Robert Naiden Position: Utility back
Robert can play anywhere in the backs and always works hard
Will Knox Position: Second row/center Favorite team: Raiders
Will runs hard runs straight and always gives his best
Tristan Cooper Position: Wing
Tristan is not afraid of anything and loves getting involved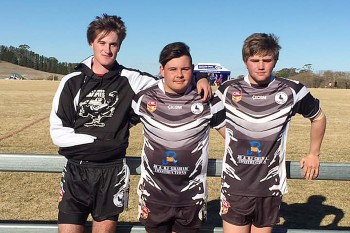 click for larger image