Under 14s go undefeated at Gala Day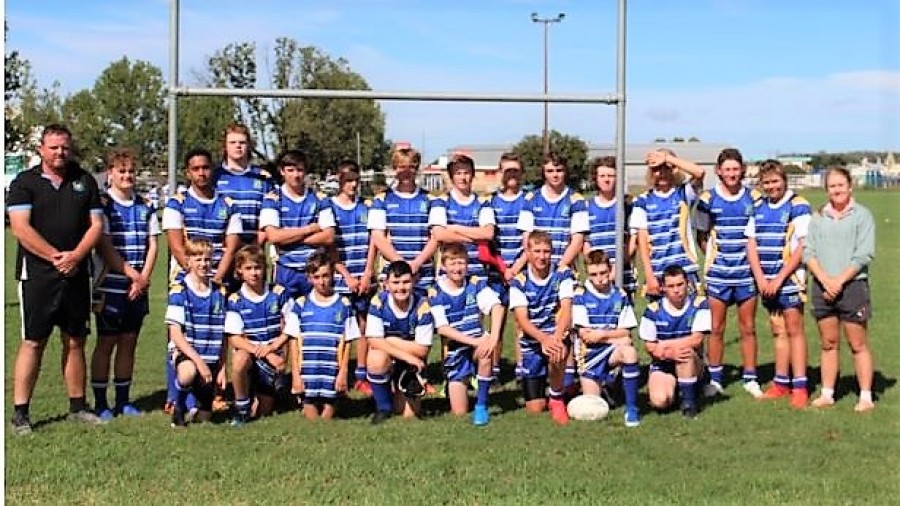 16th Mar 2021
Last Tuesday, GCS sent across 22 boys to partake in an under 14s and under 16s boys rugby league 9s Gala Day organised by the NRL in Inverell. Playing for the first time under new League and Union head Coach, Mr Jason Walker, the boys displayed all the characteristics of Guyra teams of the past: tenacity , toughness and skill.
The under 14s were drawn first against the 'Super School' of Armidale Secondary College and the boys quickly destroyed the myth that the 1300 student behemoth would dominate local sports with Guyra Central handing out a 4 tries to 1 drubbing .
Next up was Glen Innes High, Holy Trinity of Inverell , O'Connor Catholic College and Inverell High. The GCS 14s remained undefeated in all games. Outstanding players were Cooper Wilson and Rave Brazier but all the boys in the squad should be commended for their team spirit and resilience.
The Under 16s Boys also played exceptionally well. In their first game they made at least ten unforced errors handing O'Connor Catholic College undeserved field positon. As a result they suffered one try to three defeat. The boys dusted themselves off and in the next game shocked Armidale Secondary College taking a two try to nil lead at half time. Unfortunately , the larger interchange rotation of the 'Super School' saw them grind a three tries to two lead late in the second half. However, Guyra's never say die attitude saw them score a near length of the field try with the ball going through at least ten sets of hands for Guyra to snatch a draw against heir much more fancied opposition. In the next two games, Guyra got everything together and defeated McIntyre High and Inverell High. Archie Dowden and Brodie Campbell were outstanding for Guyra in all matches. Coach Jason Walker was full of praise for both teams.
"I wanted to see how the boys played together before I tried to mould them into any particular playing style," he said. "I am super impressed by the levels of skill and heart and am truly excited for the future of some of these boys."
"I would like to commend the work that obviously their club coaches have put in with these boys in the past and I look forward to forming a partnership with the Spuds so we can get these boys as far as possible in their football careers.
"I was also impressed with the boys who do not play club football at the moment and I hope that hey join a club for this upcoming season."
There is plenty of football coming up for the boys and Guyra should gain several representatives in the New England teams in the upcoming trials. The under 14s also play in a Buckley Shield Round 1 match vs Glen Innes High School which has to be played before the end of the term.