COVID-19 Vaccination rates pass 90%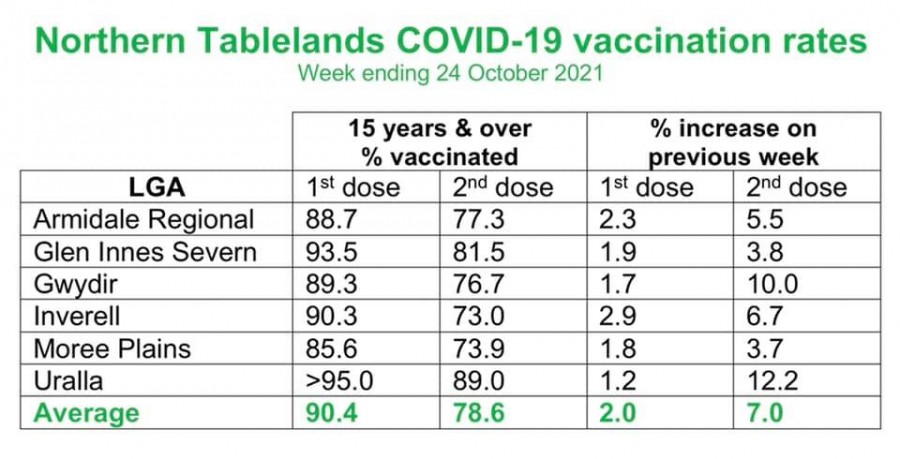 26th Oct 2021
The number of adults in the Northern Tablelands who have been vaccinated has passed 90 per cent. Statistics for COVID-19 vaccinations show that for those aged 15 or older 90.4 per cent have now received at least one vaccination shot.
In the Armidale LGA almost 89 per cent have received the first shot, and 77.3 per cent have received the second. Two new cases of COVID-19 were announced in Armidale on Monday and sewage testing has shown traces of the virus in a number of towns across the region including Guyra.
Overall, across the region 78.6 per cent of those aged 15 and over have now received both doses of the vaccine, and Northern Tablelands MP Adam Marshall said the high rates were a tribute to many people.
"I think these numbers are incredible," Mr Marshall said. "Huge thanks to the community for turning out in droves, but also to our hard-working GPs, pharmacists, the people at UNE Medical Centre, Armajun Aboriginal Health Service, the local councils, everyone's played their part in making this happen."
"The vaccination is the best defence we have against covid (because) we're living with it now, we're not locking down, we're not hiding from it," Mr Marshall said.
"We are learning to adapt, and live our lives alongside covid."
From next Monday there will no longer be any restrictions on travel within NSW, with almost 85 per cent of the state fully vaccinated.
Once December begins masks will no longer be needed as all the remaining restrictions are removed.
"We'll be joining the ranks of other parts of the world, where we're fully vaccinated and there's no turning back," Mr Marshall said.
"We will still have cases, but because we're vaccinated it reduces the number of people who get really sick and have to be hospitalised, and the number of people who perish at the hands of this terrible virus."
The vaccination figures from NSW Health were made public on Monday.