Anzac Day 2022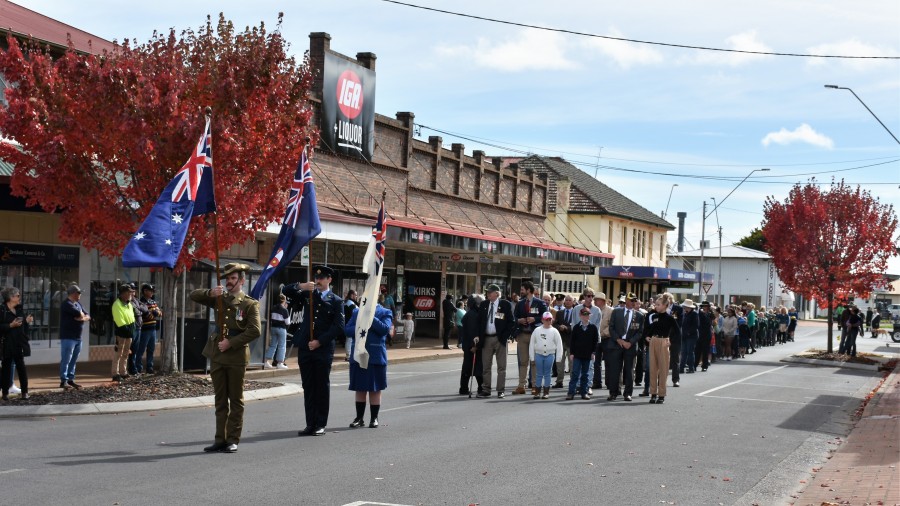 26th Apr 2022
A chill wind and near-freezing temperatures greeted those who gathered at the Soldiers Memorial Hall in Guyra for the dawn service to kick off Anzac Day commemorations for 2022. The weather had warmed slightly for the rest of the commemorations which included a 9am service at the Guyra MPS and the mid-morning march and service at the Soldiers Memorial Hall.
The commemoration address was delivered by Major Damon Hietbrink, who has served in the Australian Army both domestically and on overseas operations in Iraq and Afghanistan. He spoke of the evolution of Anzac Day and what it represents - a day to remember our dead, a day of reflection and a day of inspiration. (full transcript page 5).
Participation by local schoolchildren was once again a special part of the day. They filled out the ranks of marchers and were active participants in the ceremony. Jamerikai Patterson from Black Mountain Primary School read the Prayer of Remembrance, Olive McFarlane from St Mary of the Angels read the Prayer of Freedom, Guyra Central School Captains Millie Roberts and Michael Looker read the Prayer for the Australian Defence force and Max and Will Schaefer from Bald Blair Primary School read the Prayer of Peace.
A special part of the ceremony was a story which was read by Rose Kliendienst. Rose shared the war experience of her grandfather Vietnam veteran Garry Starr.
A contingent from RAAF 1 Squadron at Amberley were present at all three services. The squadron has a special connection with Guyra as the final resting place for two of their flight crew who died in an F-111 crash in 1993. A flyover by a FA-18 Super Hornet interrrupted the service, flying in from the north and tracking down Bradley street and passing directly over the delighted crowd.