New early learning centre for Guyra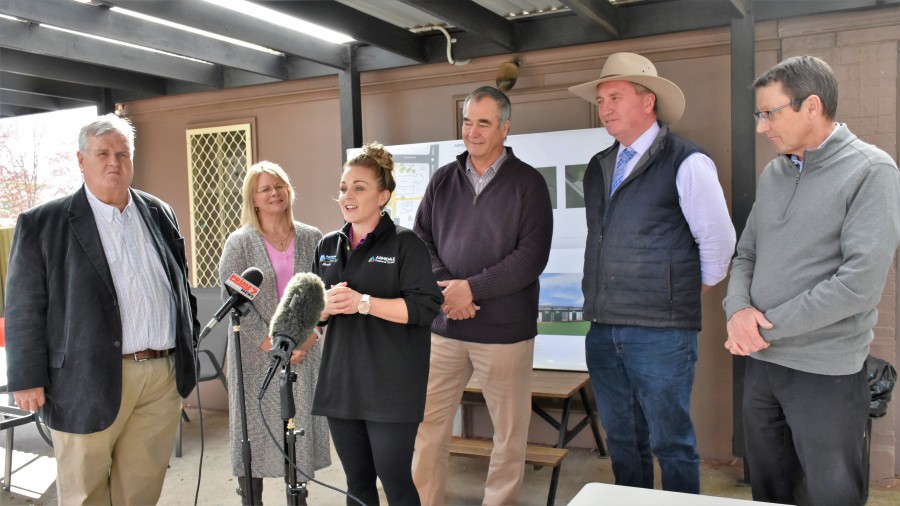 12th May 2020
Early childhood learning services in the Guyra district will be boosted by a new facility announced by Council and the Federal Member for New England, Barnaby Joyce, on Tuesday
Mr Joyce joined Armidale Regional Council Mayor Simon Murray and other Council representatives at the current site of the Guyra Preschool and Long Day Care Centre, to announce the $1.5 million project to establish a new purpose-built centre.
The new building, to be located behind Council's Civic Administration Building in Guyra, will enable the centre to double its maximum number of enrolments. It will also incorporate a before and after school care and a vacation care room, hubs for the University of New England and TAFE, and a community room.
"This represents a substantial increase in the quality of early childhood learning facilities for Guyra and surrounds, as well as meeting the needs of many more local children and their families," Councillor Murray said.
"The new location in the heart of Guyra will also help to further activate the town's central business district.
It is projected enrolments will increase from about 29 to 58 for daily preschool and long day care operations and to 30 children for out-of-school-hours care.
Cr Murray said that not only will more families benefit from its services, it will greatly enhance the centre's long-term financial viability and create more jobs in the town. He said the more centralised location would provide greater access to learning resources such as the Guyra library.
"Guyra Pre-school has been looking to develop a new pre-school and day care for a long time and this will be a great step forward for the community," Cr Murray said.
He said the project has been greatly assisted by $613,000 from the Federal Government, with a $900,000 input from Council.
Mr Joyce said the Federal Government was committed to providing parents with access to quality early learning facilities.
"These first few years play a crucial role in a child's early development," Mr Joyce said.
"So having access to a first-class learning environment such as this will go a long to providing kids here in Guyra with the best possible start in life."
A second stage in the project will also bring the UNE and TAFE Study Hubs under the same roof, with the hubs offering better distance education facilities for local UNE and TAFE students.
Until Stage 2 is funded, Council plans to temporarily relocate the UNE Study Hub.