New yarn in stock at Our Little Gallery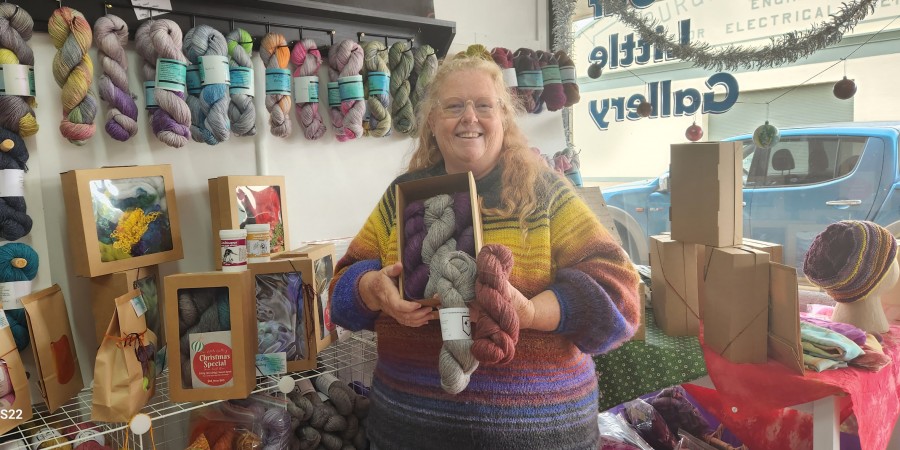 21st Nov 2023
The owners of Our Little Gallery Sarah Hunt and Louise Pearson are passionate about yarn and are always looking for local options. Recently they have begun sourcing a new yarn base from the Fibre Arts Shed, which is milled on the NSW central coast from local fleeces.
Fifty percent of the fibre in this new yarn is reclaimed during the milling process and added to 50% new wool. This is a great way for the mill to reduce waste and the fibre has beautiful tiny flecks of colour incorporated into its light grey natural colour. They have two of these bases, one is a 4ply English Leicester and the other is an 8ply Corriedale.
Sarah and Louise have also been busy dying some of each of the bases and so have a lovely range of colours with the depth which comes from dying on a grey base.
They have also been busy putting together new Christmas gift boxes and bags. There are fibre gift boxes which have lots of luscious fibers for spinning or felting and fiber boxes with hand dyed fibre. There are also yarn gift boxes and bags.
With Christmas approaching, many of the yarn bags are on special and would make a great gift idea for yarn lovers. Louise has ensured that some of the hand dyed yarn bags are in the gradients which are currently popular with YouTube knitalongs and has recently completed the Westknits Geogradient which is on show in the Gallery.
Our Little Gallery has also become a reseller of Landscaped dyes. These are the dyes they use in their dying and their dying workshops and so have lots of experience on how different colours work with different yarns.
If you are interested in dying wool fibre or yarn, they can help with providing the dyes and the information to get you started. To see the full range and find out what they have to offer call in to the gallery at 140 Bradley St.