Protesters rally outside Tamworth Bush Summit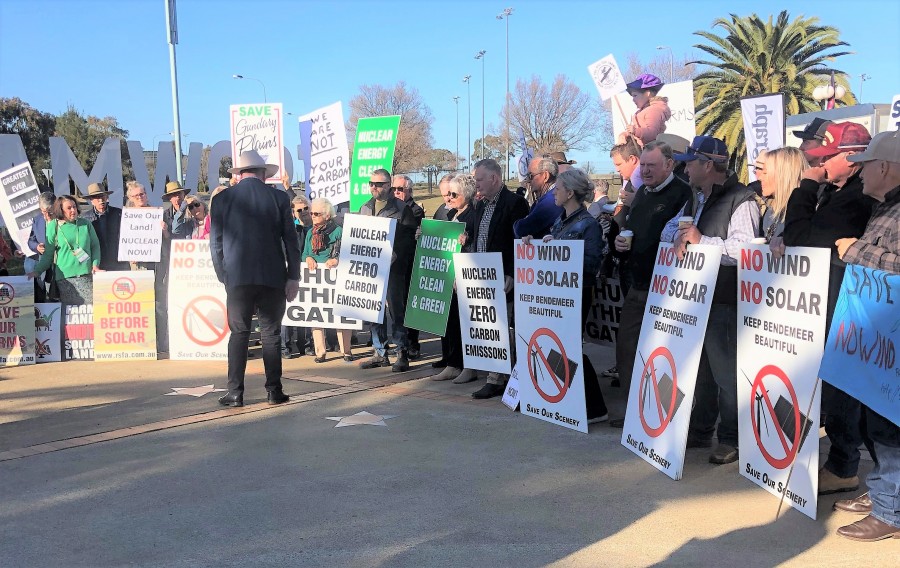 15th Aug 2023
Protesters rallied outside the Bush Summit held in Tamworth last week to voice their opposition to renewable energy projects. Groups from across the New England joined the rally in the hope of drawing attention to their concerns about the impact that renewable energy projects, including transmission lines on agricultural land, are having in their communities.
Prime Minister Anthony Albanese was a keynote speaker at the event, while former Deputy Prime Minister and Nationals Member for New England Barnaby Joyce joined the protesters outside the summit.
"They want their voices heard properly on renewable energy projects - people feel it's just tick-a-box consultation," Mr Joyce said.
Among the protestors were around 30 members of 'Batting for Boorolong'. The group was formed by those objecting to a proposed windfarm near Boorolong which they believe will have far-reaching impacts on the area.
Spokesperson for the group Suella Tritton said they felt it was important to make politicians aware of the concerns that people have about the lack of consultation and the cumulative impact that these energy projects will have for the region.
"We are not against renewable energy, but we are against the sheer amount of projects being pushed in this area," Suella said.
"We needed to tell the politicians about how these issues are affecting us."
"There were multiple groups from right across the New England protesting and while we all have different issues, we were united in our desire to bring those issues to the attention of the decision makers," Suella said.
"Politicians need to know that they can't just rollover people in the bush – we are not going to lie down and let it happen – I think they got the message."
Beth White from ReD4NE also attended the rally. Red4NE acts as an umbrella group for local communities impacted by large scale renewable energy projects.
"As a diverse group from both inside and out of the designated NE REZ our thanks goes to Barnaby - and those in his team as the 'enablers' - for without the advanced knowledge of time, contacts and processes, the organisation may not have been possible," Beth said.
"With short notice we responded quickly, brought a clear message of dissatisfaction of the procedure and processes of planning in NSW and Australia for our future energy security."
"We, however, were able to identify ourselves as the unpolished, non-professional protesters - not even a football cheer squad leader among us, just a common cause, shared desperation and camaraderie."
There is a movement to "LOCK THE GATES" on further development and transmission lines pending a request to NSW Energy Minister Penny Sharpe for an inquiry into the Cumulative Impact of the proposed developments.