Guyra progress in Bill Turner Cup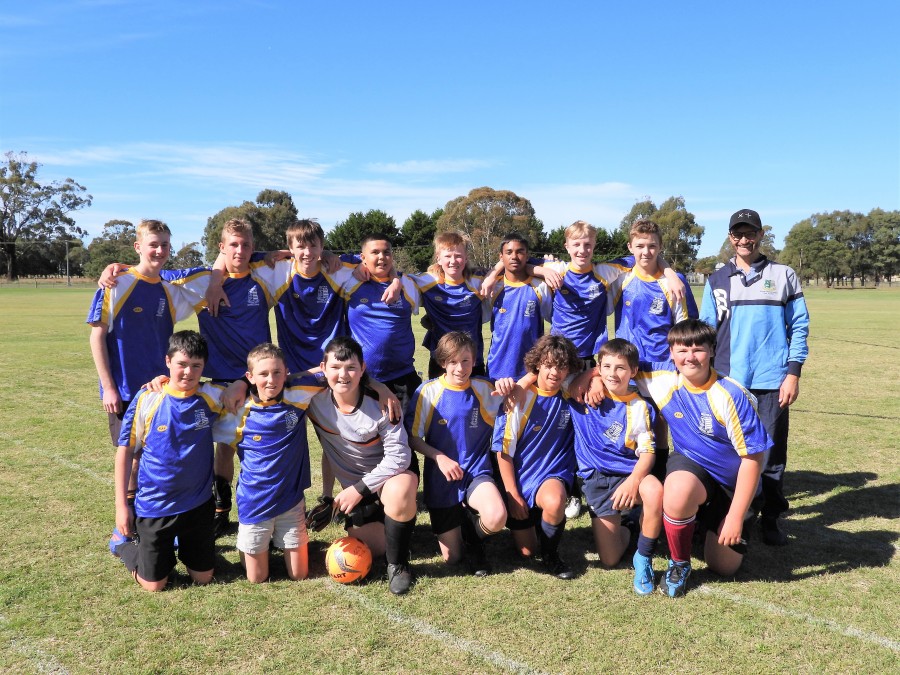 24th May 2022
On Wednesday 18th May 2022, Guyra Central School under 15's boys competed in Round 2 of the Bill Turner Cup Knockout State Soccer Championships. The team was made up of some who have played soccer for years, and others who had never played before. We started the game with a structure with Aiden and Lincoln Brown, Rave Brazier and Ryan Williams holding the backline and the mid-field pushing through-balls for Brendan Landsborough to run onto with his stunning speed and determination. This approach served us well, with the game in our grasp until an Inverell breakaway and rash defending resulted in a penalty against us. Angus Dullaway bravely held his ground and saved the shot, keeping the 0-0 balance until just before half time when Holy Trinity slotted in a goal.
Our mid-field consisted of Ethan Tribe, Harry Purvis, Aiden Brown, Owen McCann and Jake Tibbs who all continued to take shots on goal and assist Jack Soraghan, Darcy Grills and debutant, Treigh Bonser-Karhu to do the same. Colin Connors, our goalkeeper for the second half, made several important saves, keeping us in the match. A goal from Harry Purvis levelled the score at 1-1 then a second goal from Rave Brazier gave us the lead with only 7 minutes remaining in regulation time. A late goal by Holy Trinity pushed us into extra time, where sadly, we had to drop off some of our brave new players like Darcy Grills and Thomas Brazier. When Angus saved yet another penalty in golden-goal conditions, the growing spectator crowd were on-edge but when Harry Purvis sent Jack Soraghan into the box and he completed the run with a beautiful goal in the top corner, the crowd erupted. We won 3-2 and play Armidale Secondary in Round 3 in coming weeks.
Thank you to Mrs Jo Dullaway for photographing the game, Miss Eunice Blair and Cooper Brennan for running the lines. Congratulations to all the boys for playing in a spirit of fairness and determination.