Graziers Focus on Chilean Needle Grass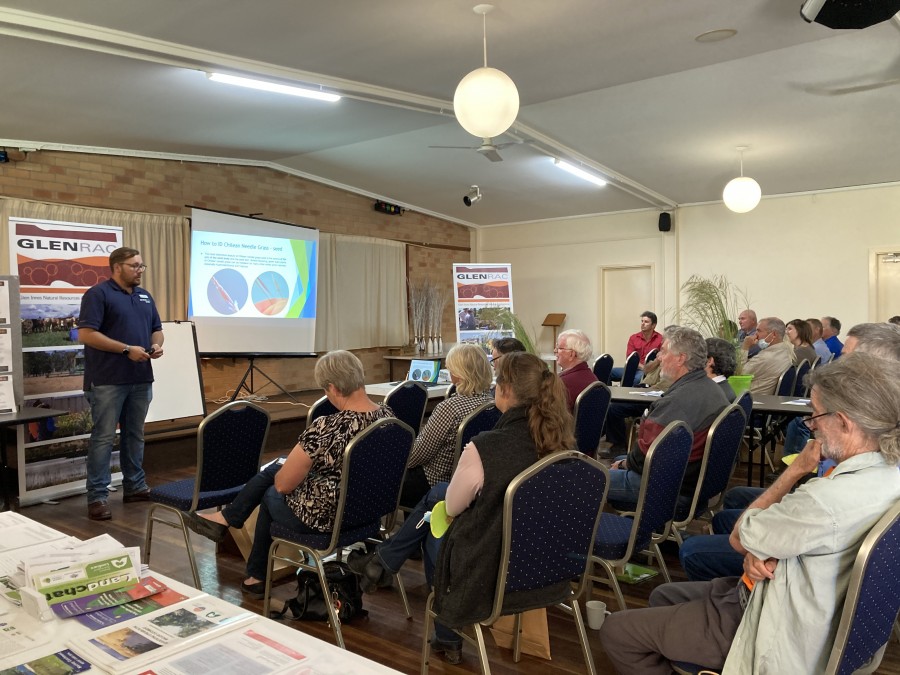 11th Jan 2022
Friday 10th December saw 66 community attend the Guyra Bowling Club for a second workshop in a month focused on Chilean Needle Grass. The workshops have been instigated by a group of landholders in the Black Mountain area, led by local landholder Kristy Youman.
"We received an offer of funding from Northern Tablelands Local Land Services to run the project, and we've onboarded both Southern New England Landcare and GLENRAC to assist us in managing it," said Kristy. "And it's a good thing, because I'm really surprised at how much interest we've got in these two events."
Several speakers addressed participants at the event, including New England Weeds Authority's Trent McIntyre; Vice President of Southern New England Landcare and local landholders Bill Perrottet; and Dan McKemey; Karl Andersson & Max Newsome from Northern Tablelands Local Land Services; and agronomists Paul Harris from Elders and Craig Chapman & Matt Foster from Grazag,.
"If you have small patches of Chilean Needle Grass, mark them on your map or GPS the location," was the advice given by Trent McIntyre, Senior Biosecurity Officer. "Removing the seed head will help remove 85-90% of the seed in the plant, and then spray the plant according to the label rate.
"Remember to return to the area again in September or October every year to monitor and treat that patch again," he said.
Participants were advised to hit small areas hard, maintaining a 10-metre clean buffer around all boundaries to prevent spread into neighboring properties.
Bill Perrottet has a lived experience with Chilean Needle Grass, having so much that it has to be managed rather than eliminated or controlled.
"Ensure you have a good biosecurity plan, target small patches hard, and for large areas, set stocking just before seed set can help retain feed value," said Bill.
Dan McKemey compared Chilean Needle Grass to a virus we've all heard so much about in recent times.
"Chilean Needle Grass is like the coronavirus – it's spread by us," said Dan.