Ben Lomond RFS celebrates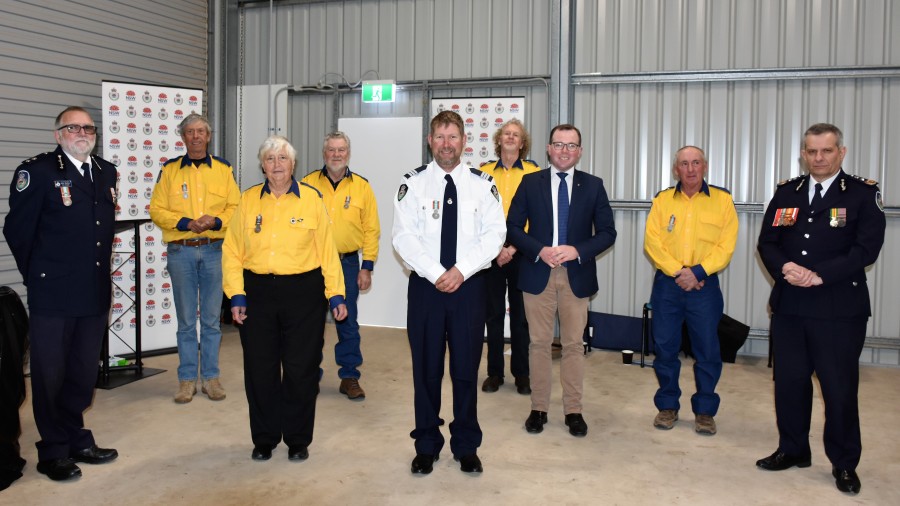 25th Aug 2020
Janelle Stewart
The NSW Rural Fire Service (NSW RFS) New England Zone celebrated the achievements of dedicated volunteers while also celebrating the official opening of the newly upgraded Ben Lomond Rural Fire Station on Saturday.
NSW Rural Fire Service (NSW RFS) Commissioner Rob Rogers joined Member for Northern Tablelands Adam Marshall and members of the Ben Lomond RFS on what turned out to be beautiful 'crisp' morning on top of the mountain.
New England Zone Superintendent Steve Mepham welcomed everyone to the opening of the repurposed station which began with the presentation of long service medals, marking over 200 years of combined service by local members.
Medals were presented by NSW RFS Commissioner Rob Rogers who congratulated the medal recipients with special mention of Dorothy Every.
"A long term member of the Ben Lomond Brigade, Dorothy has been a highly respected and capable member and I thank her for her service to her brigade and protection of the community.
"I would like to take this time to praise all our volunteers for their ongoing efforts each and every day, particularly when dealing with emergencies in the New England Zone.
"We also thank the family, friends, and colleagues of these and all volunteers. We know it takes their support and patience to help Rural Fire Service members do what they do."
Dorothy has been an active member for 45 years and she praised the new premises which have been on the wish list for a long time.
"This shed is something quite incredible," Dorothy said. "When I was secretary many years ago, every year when we had to put in our annual report I would have to call people from here to Wandsworth and then visit to track down the equipment."
"And quite often you couldn't find the machinery or the pumps or the hoses so it is wonderful to have somewhere to keep all the gear in one place."
The new shed replaces one that was built by volunteers in the 1970s and is reward for the group who have been waiting for 20 years for the upgrade. It will allow the brigade to house their current vehicles and provide better amenities for volunteers. The new station features increased space for vehicles, and also the installation of new water tanks.
Long service medal recipients were Nigel Bourne (not present) Anthony Cunningham, Nathan Fletcher (not present) Andrew Willis, Michael Mulligan, Cameron Way (28yrs), Don Stride (32 yrs) and Dorothy Every (45 yrs).