Council and SES teams clean up after gale-force winds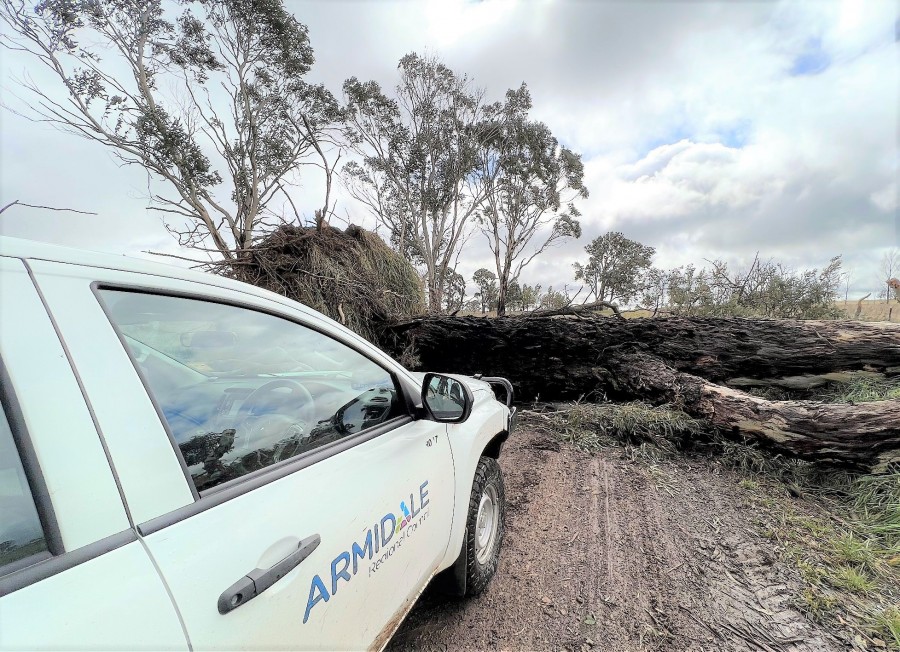 07th Jun 2022
State Emergency Service and council teams across the region were busy clearing debris last week, and some residents remained without power for more than 48 hours after wild weather blasted the Northern Tablelands.
As strong winds ripped through the region, damage was reported over a wide area from the Liverpool Plains area up to Tenterfield.
High winds, combined with the high soil moisture content following the consistent wet weather during the last year, saw a large number of trees downed and hampered access for repair crews.
By midday on Tuesday, more than 123 calls for assistance had been logged with SES units across New England. More than half of all calls received across New England came into the staff at Armidale, Guyra, Uralla and Walcha units who logged a combined 85 calls for assistance.
The SES partnered with council and the Rural Fire Service to clear trees from across roads and return access to the public. Armidale Regional Council crews were kept busy clearing trees that were blocking roads.
At the height of the storm, more than 20,000 customers were without power across Essential Energy's network footprint.
By 10am on Tuesday, the number of customers without power supply across the wider New England North West and Northern Tablelands stood at around 5,200 including 374 in Guyra.
By Wednesday afternoon, those numbers were reduced to 117 still without power in Armidale, 53 in Guyra, 6 in Glen Innes and 3 in Tenterfield and the majority of those customers had their power supply restored that evening.