Hay delivery another reason to smile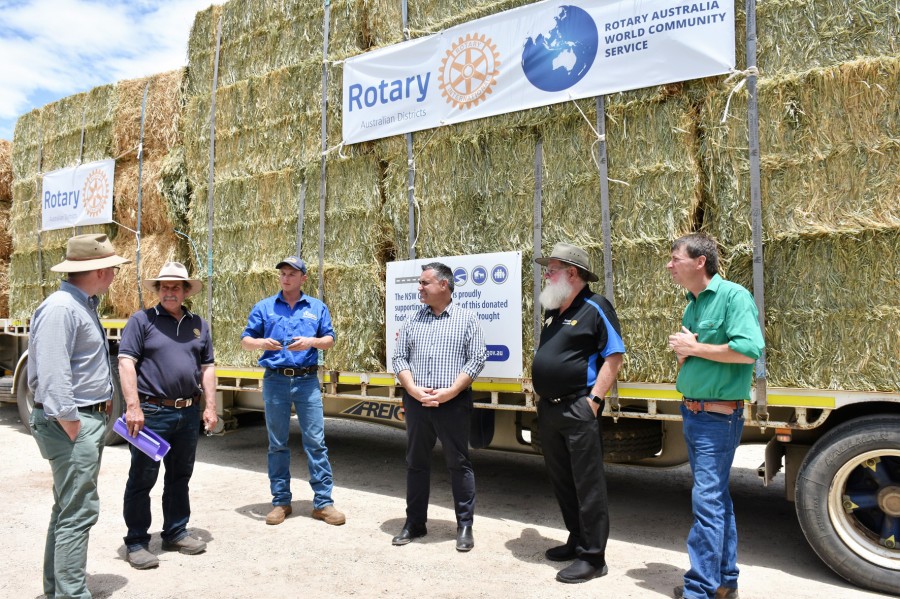 28th Jan 2020
Janelle Stewart
Long overdue rain and a generous fodder delivery has brought a smile to the faces of landholders at Guyra and Wollomombi last week. The delivery was made possible through Rotary Australia World Community Service (RAWCS) Ltd which provides project services to Rotary Clubs across Australia.
Deputy Chair for RAWCS Ltd and Guyra Rotarian David Pearson said that the Drought Fodder project is an example of a project funding model that they are working to adopt more widely, where Rotary Clubs can be engaged in significant programs of doing good without having to raise every dollar locally.
The hay deliveries were made possible by a very generous donation of $1million from an anonymous donor to Rotary and the assistance of the NSW State Government in covering all of the transport costs. The $492,500 contribution to cover all the transport costs meant Rotary has been able to put the full $1 million towards buying hay.
"Through the generosity of one Philanthropist and with the support of the NSW government, the 16 Rotary Clubs involved to date will each have facilitated about $70,000 of drought aid in their communities through this one project in addition to their other drought support," David said.
"In total there will be 82 loads of hay delivered across Northern NSW and into Queensland, with farms nominated by local Rotary clubs."
"We used strict guidelines to identify individual farmers living in areas of severe drought and have provided each one with enough hay to carry them over for a month.
Local Rotary Club members facilitated the delivery on behalf of RAWCS and they were joined by Member for Northern Tablelands Adam Marshall and Deputy Premier John Barilaro to welcome the first of many truckloads of fodder made available by the donation, as it rolled onto the property of Black Mountain farmers Matt and Jenny Friend.
Matt said that it is an amazing gesture that will help immensely to maintain their core breeding stock.
"We have been feeding for two years to maintain our breeders and this will help us along," he said.
"The drought has meant an immense amount of cost both financially and emotionally."
"To receive this huge and generous gift from an anonymous donor will give us a bit of a break and mean we can stretch our budget a little bit further.
"A delivery like this before the rain when we were feeding full time would have lasted around fourteen or fifteen days," he said. "We have had a bit of rain now so it will last a bit longer this time, but while the rain has painted the country green there is still no bulk in the feed on the ground so this will help immensely."
Hay deliveries were also made to two farms at Wollomombi last week and further deliveries are being made across the Northern Tablelands and North West over the coming weeks. Deliveries will also be made into Queensland, however, this is proving more difficult due to the lack of drought transport subsidy in that state.