Home made and happy at Silent Hands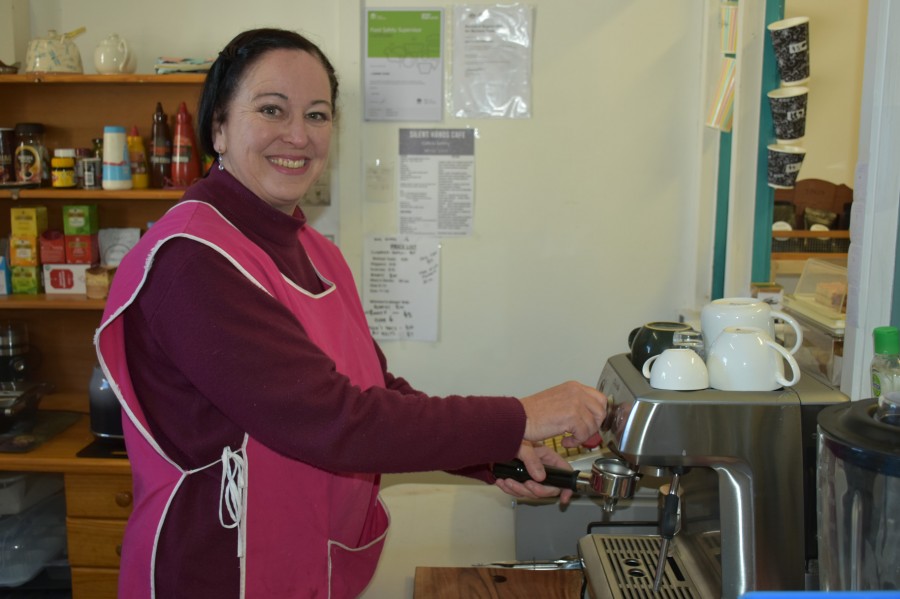 26th May 2021
The newest business owner in Guyra, Lianne Cook has had to conquer more than a few obstacles in her life. From losing her hearing at the age of two to a recent car accident, she has shown resilience and an ability to bounce back and pursue her dreams.
A long-time ambition to own her own business has now been realised with Lianne recently opening Silent Hands Café. She credits her deafness for her self-strength, stubbornness and a strong sense of independence.
"I grew up thinking that there was nothing I couldn't do in terms of jobs except those that required hearing," Liane said. "I used to be known as 'Jill of all trades', as I was willing to try anything to earn money and experience."
"I have worked as a vet assistant, library assistant, vineyard worker, laboratory / field / research assistant, factory worker, book keeper, clerk, office assistant, racehorse strapper, greyhound stud manager, cafe worker, restaurant worker and a motel worker.
"I also did a lot of TAFE courses in catering, cooking for restaurants and cafes, which intensified my passion and desire to open my own cafe one day as I just love cooking and creating new menus and recipes."
Lianne has lived in a lot of places in NSW and QLD and moved to the Northern Tablelands area three years ago when her father passed away.
"I am very glad to be living here as it is a beautiful area," she said. "All my family live in Qld but I decided I didn't want to live in the humid climate, so I moved here so I could be close to Qld but still live in NSW."
"Following a serious car accident in December last year I decided to re assess my life and pursue my dream of owning my own cafe business sooner than later. It made me realise that life is short and I didn't want to miss out on the opportunity to realise one of my ambitions," Lianne said.
"When a building came up for rent in April, I jumped at the chance to snap it up even though it was an office and would need extensive amounts of work to turn it into a cafe.
"I had done a lot of research into the businesses in Guyra for the past year and I was aware that other cafes might not appreciate another cafe popping up, but I felt that there was still room for everyone.
"At Silent Hands I only provide light refreshments, and am open later and different hours. I also sell my home made cakes and slices as well as homemade jams and relishes. They have been a popular seller at the local weekly market for the past 12 months and now that I supply the same thing in my shop, it makes easier access for regular customers.
"I've had a lot of positive feedback from people walking in just to congratulate me and wish me good luck, and saying that they love the cute little cafe layout, which is very encouraging.
'I feel that Guyra is a great little community and supportive to businesses, and I hope they will also support a new cafe business. I also hope that my deafness isn't something to scare them or make them think that I can't take their order over the counter, for example.
"I also hope to bring in extra visitors to Guyra as I am a member of a large deaf community who are caravan travellers. They often travel to Qld from Melbourne or NSW and I have already advertised to them about my cafe in Guyra and hope they will stop in on their way north this year."
Opening hours have varied according to customer feedback. Silent Hands is currently open Monday to Wednesday 9am til 2pm, Thursday 1pm til 4pm, Friday 9am til 2pm, Saturday 11am til 3pm, Sunday 8am til 2pm.