Guyra Show - Shearing results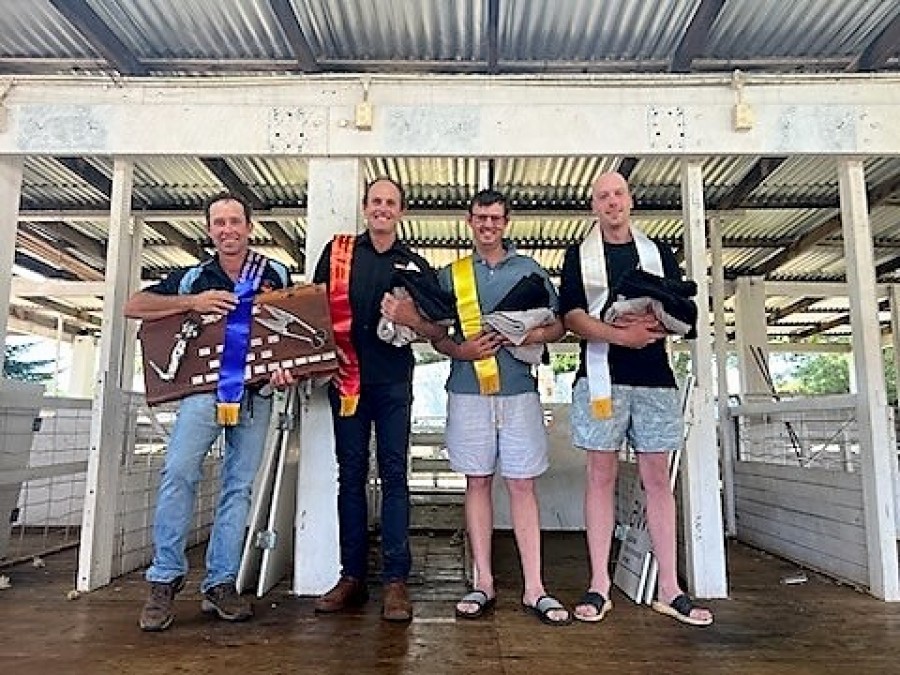 08th Mar 2023
We had a very good roll up of shearers this year, Friday night we had 33 shearers and Saturday we had 42 shearers. Friday night we held the speed shear with the following results:
Intermediate:
1st Jack Hillier (Glen Innes) 35.48 sec, 2nd Clay Bonnici (Uralla) 36.61 sec, 3rd Nigel Lucca (Dubbo) 36.99 sec
Open:
1st Jeremy Newberry (Guyra) 25.53 sec, 2nd Jerome Taiki (Walcha) 25.71 sec, 3rd Elliot Learmont (Peak Hill) 28.57 sec.
On Saturday we held a sports shear event with the following results:
Novice:
1st Stacci Chisholm (Manjimup WA), 2nd Charlie Baker (Gilgai), 3rd Hayden Wallace (Black Mountain), 4th Britt Phillips (Pilliga)
Intermediate:
1st Callan Mallise (Barraba), 2nd Andrew Kelly (Walcha), 3rd Jack Lockyer (Guyra), 4th Nigel Lucca (Dubbo)
Senior:
1st Zac Mallise (Barraba), 2nd Blake York (Barraba), 3rd Ewan Winter (Glen Innes), 4th Ethan Brown (Dubbo)
Open:
1st Jeremy Newberry (Guyra), 2nd Daniel McIntyre (Glen Innes), 3rd Luke Foster (Guyra), 4th Erick Klabe (Guyra)
Best score for local shearer on the day went to Erick Klabe.
It was very pleasing to see such great support from the spectators on both days. A little hiccup Saturday with the power but with a small delay we got a generator and we were back in action. I would like to thank all the shearers who participated and some who travelled many hours to be here.
Thanks to our judges, timekeepers, roustabouts, penner uppers, our many sponsors, our busy secretary and scorer Jaimie Mayled and our committee members who all put in a lot of time and effort into running two successful show shearing events. Thanks to Wayne and Lorraine Jenkyn for supplying the sheep and to Trevor and Deidre Tarrant for carting the sheep in and back.
Many thanks to the shearers and draggers and the graziers who help shear around 350 Dorset rams from which all the money goes into having such good prize money for both days.
Bruce Reeves.