Santa's special run this Christmas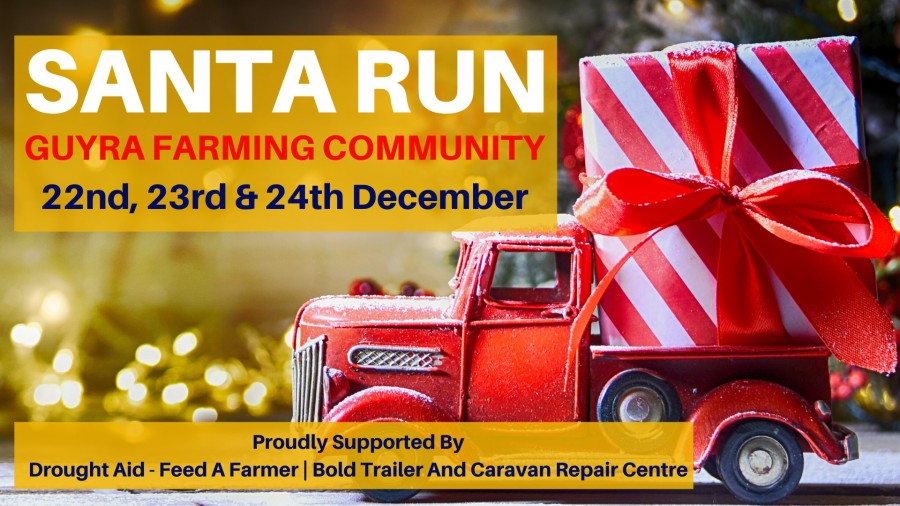 20th Nov 2019
Santa has a list and he is checking it twice to make sure that drought-affected families are at the top. Santa has a little extra help this year from Drought Aid - Feed A Farmer - Armidale, Guyra, Glen Innes & Nearby Towns, who are helping with the "Santa Run".
In the lead up to Christmas Santa will be driving from farm to farm Guyra district delivering gifts to both children and adults. The idea is to make sure families have something under the Christmas tree this year. Santa will deliver gifts on the 22nd, 23rd, 24th December.
Gift donations are in the category of female (mum), male (dad), boy and girl (with boy and girl please nominate age-appropriate remembering toddlers and teenagers).
Locally, gifts can be dropped into The Hub at 160 Bradley St Guyra between 10am - 2pm, or to Tarsha Baker at 6 Moredun Street anytime. Donations of new toys and gifts are also being made through Drought Aid – Feed a Farmer. Santa's elves will make sure they are in Guyra in time for the Santa Run.
Farmers and families can be nominated by sending an email to
ttjkbaker2013@gmail.com, phone 0448590925 or placed into mailbox at 6 Moredun st Guyra.
Nominations can be made by families themselves, a friend, a neighbour, an organization or a family member. Information required is name of mum and dad, children's names and age, contact phone number and address. All information is strictly confidential for Santa only.
Any business or anyone wishing to donate can contact Tarsha Baker and she can pick up (Guyra Area) or Jaclyn Bold at Drought Aid - Feed A Farmer - Armidale, Guyra, Glen Innes & Nearby Towns .