Hope Family Fun Day cancelled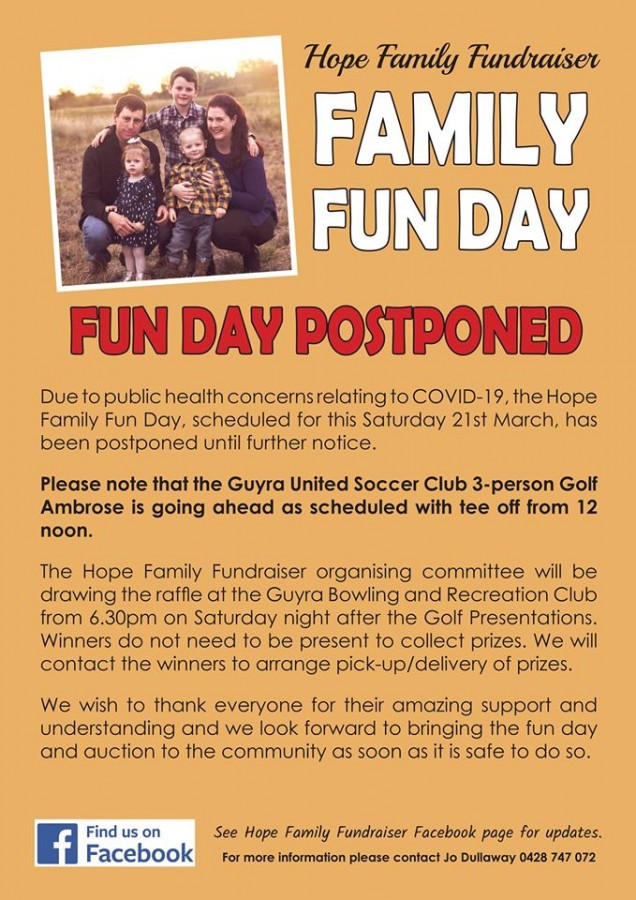 17th Mar 2020
Unfortunately, due to public health concerns relating to COVID-19 (Coronavirus), the Hope Family Fun Day and Auction, scheduled to take place this Saturday 21st March, has been postponed until further notice.
Please note that the Guyra United Soccer Club 3 PERSON GOLF AMBROSE IS GOING AHEAD as scheduled with tee off between 12 noon and 1.00pm. A BBQ dinner will be available for all Golfers taking part on the day and is included in the fee of $25.00/player. Proceeds will be going to the Hope Family Fundraiser.
The Hope Family Fundraiser organising committee will also be drawing the Hope Family Fundraiser Raffle at the Guyra Bowling and Recreation Club from 6.30pm on Saturday night after the Golf Presentations. Winners do not need to be present to claim their prizes and they will be contacted to arrange pick-up/delivery. Many local businesses still have tickets available if you wish to purchase them and with over 50 Prizes it is a great opportunity to contribute for as little as $2.00 a ticket.
The committee wishes to thank everyone for their amazing support and understanding and we look forward to bringing the Fun Day and Auction to the community as soon as it is safe to do so. Please contact Jo Dullaway on 0428747072 for further details if required.