First COVID cases for Guyra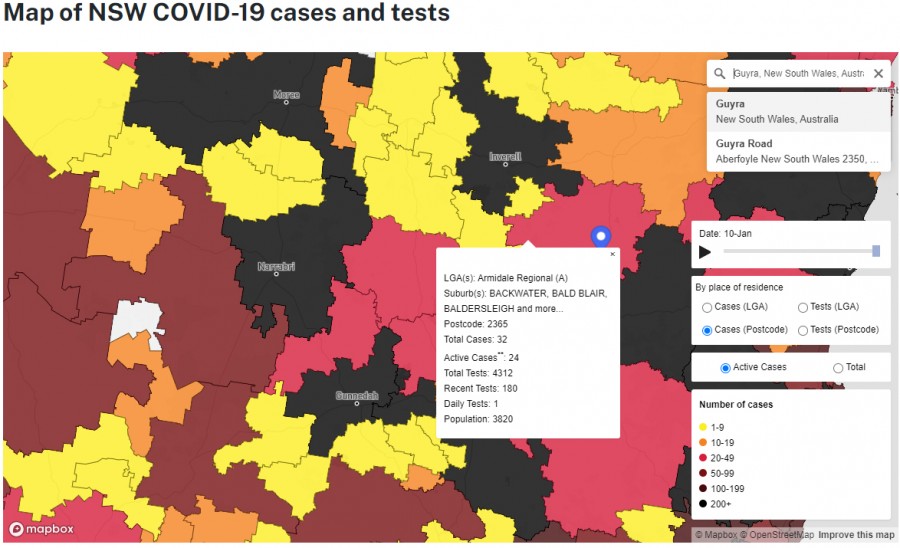 11th Jan 2022
The first COVID-19 cases since the pandemic began, have been recorded in Guyra. The first case for the 2365 postcode area was notified by NSW Health on December 23rd.
Since then a total of 32 cases have been officially recorded, 24 of which remain active.
Cases in the Armidale LGA currently stand at 487 of which 356 are considered active.
There are 24,146 active cases in the HNEH District. 106 active cases are being cared for in hospitals, 9 are in ICU.
Have you tested positive for COVID-19 on a rapid antigen or PCR test?
You must:
• Self-isolate at home for 7 days from the date you got tested, even if you are fully vaccinated
• Tell the people you live with, any social contacts, and your workplace or school that you have tested positive
Your household contacts must also self-isolate for 7 days and have a rapid antigen test as soon as possible and again on day 6.
If you are under 65 years of age, have had two doses of COVID-19 vaccine, do not suffer from any chronic health conditions and are not pregnant, you can safely manage COVID-19 at home.
If you develop severe symptoms call Triple Zero (000) and tell the ambulance staff that you have been diagnosed with COVID-19.
You can only leave self-isolation after 7 days if you do not have a sore throat, runny nose, cough or shortness of breath. You do not need to have a negative test to exit isolation.
You will receive an SMS from NSW Health after 7 days, but you do not have to wait for this SMS to leave self-isolation if it has been 7 days since you were tested.