Athletics talents on show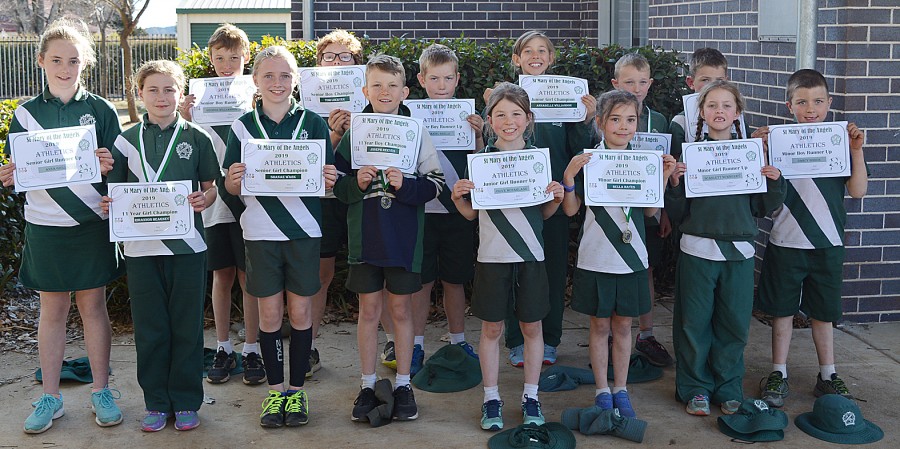 21st Aug 2019
On Friday 2nd August, students at St Mary of the Angels participated in their annual School Athletics Carnival.
Students had been busily preparing for these events and were very eager to get started. The day kicked off with the 100m age races with students demonstrating their sprinting and fast running talents. Students then rotated through the field events including Shot Put, Discus, High Jump and Long Jump.
The day offered a fantastic opportunity for students to showcase their athletics talents and to give all activities a go. A team of students have successfully made it to the next level of representation and will be attending the Diocesan Athletics Carnival in Tamworth this Friday August 23rd. Congratulations to this team and good luck at the next level.
Minor Boy Champion Teo Starr, Runner Up Darcy Sisson
Minor Girl Champion Bella Hayes, Runner Up Scarlett Newberry
Junior Boy Champion Nayte Foster, Runner Up Archie Foster
Junior Girl Champion Annabelle Williamson, Runner Up - Olive McFarlane
11 Year Boy Champion Joseph Reeves, Runner Up Daniel Grills
11 Year Girl Champion Rhiannon Heagney
Senior Boy Champion Tom Lockyer, Runner Up George Williamson
Senior Girl Champion Shanae Wark, Runner Up Anna Grills.