Roadworks in full swing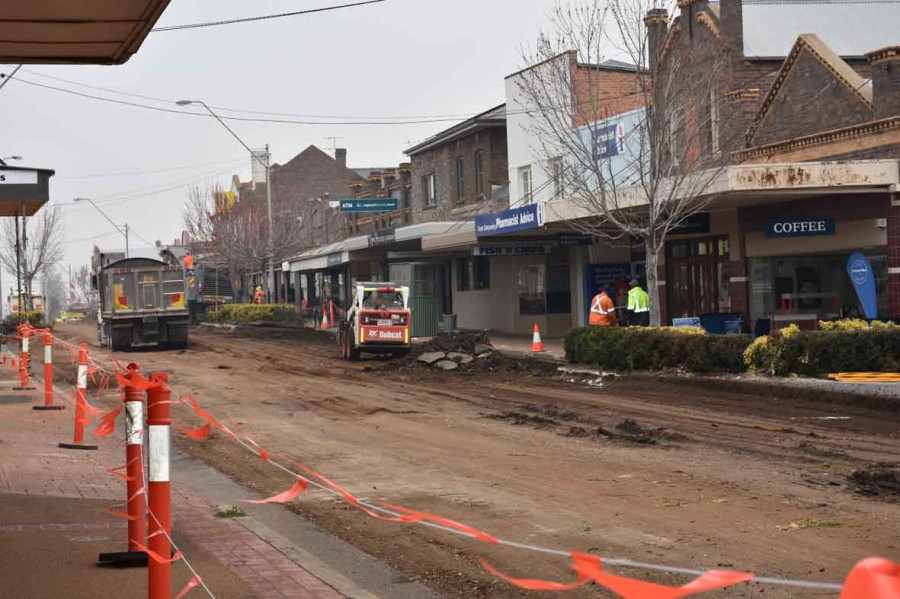 18th Sep 2019
Janelle Stewart
The reconstruction of the Guyra main street has now begun, and is already causing a few headaches for local businesses who are feeling a sharp decline in trade.
Road crews moved in on Monday morning and began ripping up the road pavement in preparation for realignment and resurfacing of the road.
The Gazette spoke to a number of businesses who said that while they are hopeful that the final result will be an improvement, they were not fully prepared for the impact of the works.
Shane Beechey from Fourways Service Centre said that it has been absolute chaos with just one entry for customers.
"It is definitely going to have a big impact on us because it is hard for customers to get in and out and some will probably go somewhere else to fill up," he said.
"There is also a lot of dust being kicked from the roadworks which is causing a problem."
Kirks IGA are offering customers free home delivery while the work is being carried out. Manager Harry Kirk said that customers are finding it difficult to get in.
"We've already noticed a sharp decline, but we are offering some great deals to get people through the door," he said.
"We'll do free home deliveries if customers want to ring through their orders over $10," he said.
"There is also parking behind the shop and for customers who do come in we can arrange for pick up at the back gate as well."
Guyra Pharmacist Vu Nguyen also wanted customers to know that they offer home delivery, and if they are finding it difficult to get into the pharmacy they just have to ring up and delivery will be arranged.
"This is a service we already offer but now is a good time to make sure people know they can just pick up the phone to get their medications," Vu said.
Anne Thrift from CT Electrics said that while it is inconvenient it is just something that they have to put up with.
"The work can't happen without some inconvenience so we will just go with the flow," she said.
"In the end, I think it will be worth it and there are ways around the problems. We are able to get in and out via the back of the shop and if customers need something they just have to ring up and we will deliver."
Other businesses have also been impacted with the Guyra Bakery reporting trading was well down on Monday, and the Royal Hotel also reported slow trade. Hotel patrons will be able to access the premises from the rear from Thursday of this week. Rear access is also available for customers of the Guyra Café.
While it may be slightly inconvenient, the work is expected to be completed by the end of September.