Media spotlight on our town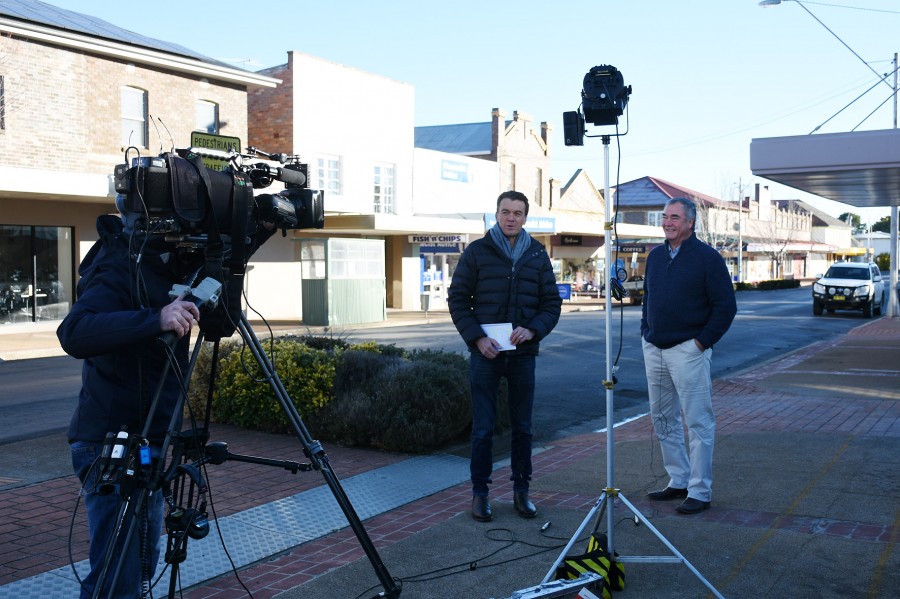 16th Jul 2019
Janelle Stewart
The national media spotlight fell on Guyra on Tuesday morning with the ABC News Breakfast doing a live telecast from a chilly Bradley Street. The drought has been the focus of media attention with Guyra described on the program as 'Ground Zero' due to the severe water restrictions.
The news team is spending this week travelling throughout Queensland and New South Wales providing special coverage on the drought and trying to give it a national platform.
News Breakfast host Michael Rowland, reporter Caitlyn Gribben, and cameraman Simon Winter filmed a series of reports highlighting the impact of the drought on farmers and also the town.
Michael said that by getting out into the regions he hopes to gain a first-hand perspective on how bad it is, saying the visit has been emotional and confronting but also uplifting due to the steely and stoic determination he has seen.
"I wanted to do this to get a first-hand view of the drought for myself," Michael told the Gazette.
"We have been reporting from a distance but that hasn't really prepared me for how desperate it is.
"The drought has slipped off the national media radar and this is our attempt to keep it firmly in their minds and give the people who are most affected a chance to tell their stories," he said.
"If more people tell their stories, more people in the cities will realise that there are a lot of people out there who are doing it tough."
They spent Monday afternoon with fifth generation cattle producer Sam White at 'Bald Blair', who said this drought is by far the worst that they have faced.
Sam has had to offload half his cattle and is feeding the remaining 800 breeders plus 200 replacement heifers and bulls every Monday, Wednesday and Friday
"I can't see that the feeding will stop in the near future," he told Michael.
"The biggest challenge is the lack of soil moisture which makes this particular drought challenging.
"This is the toughest one we have had to go through. We have had four or five dry springs and only half the rain we usually get.
"We have to deal with what is in front of us and if that is climate change we will deal with it."
The ABC team also visited the water treatment plant to witness tankers unloading water trucked in from Malpas dam and spoke to Mayor Simon Murray about how desperate the water situation is.