A just reward for a helping hand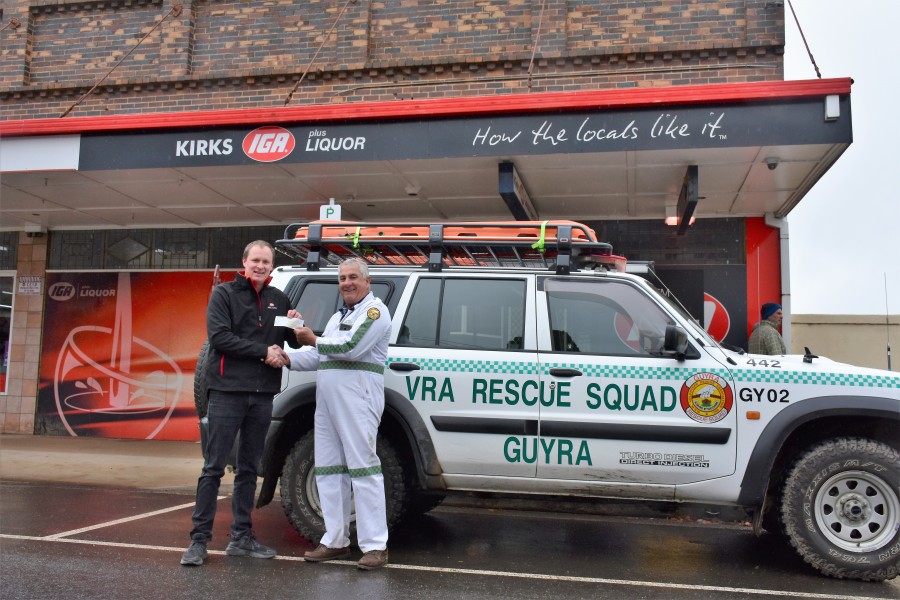 30th Jun 2020
Janelle Stewart
Guyra Volunteer Rescue Association (VRA) has been given a boost with Kirks IGA handing over a $500 donation to the group as thanks for their support over recent months.
In the midst of the COVID 19 crisis, the VRA stepped in to support staff who were coming under pressure due to panic buying and increased demand for home deliveries.
Manager Harry Kirk said that it just a small reward for the group which he hopes they can use to buy some new equipment to support their work in the community.
"At the time we were run off our feet just trying to keep the shelves full and while we were trying to cope with the influx of customers we also had a high demand for deliveries," Harry said. "The VRA offered to donate time to help out with deliveries and as soon as that happened they were run off their feet helping us to meet the demand."
"They do a great job in the community and this is an opportunity to reward them for the work they put in..
"We had some great feedback from customers who sent cards and emails thanking the VRA for their great service, which shows how much the work was appreciated,"
VRA member Wayne Mendes said that he enjoyed his time doing deliveries and also enjoyed the opportunity to connect with people who were staying close to home.
"It was good to help out and I enjoyed being able to have a yarn with people and they were always so welcoming and grateful for the service," Wayne said. "This is not what we normally do but we saw a need and it was a way of connecting with people during what was an uncertain time."
The VRA are starting to get back into training now that things have settled down, after being restricted to online training for the last few months. While they have a core group of dedicated members, more are needed to keep service going.
They are always on the lookout for members and to find out how you can become
involved simply go along to the VRA shed in Yarrawanda St. Meetings are held on Tuesday nights and everyone is welcome.
Kirks IGA deliveries are back to normal now that things have settled down. The service is always available for the elderly or those without cars.
Delivery is free within the town boundaries.