Roadworks underway in Bradley St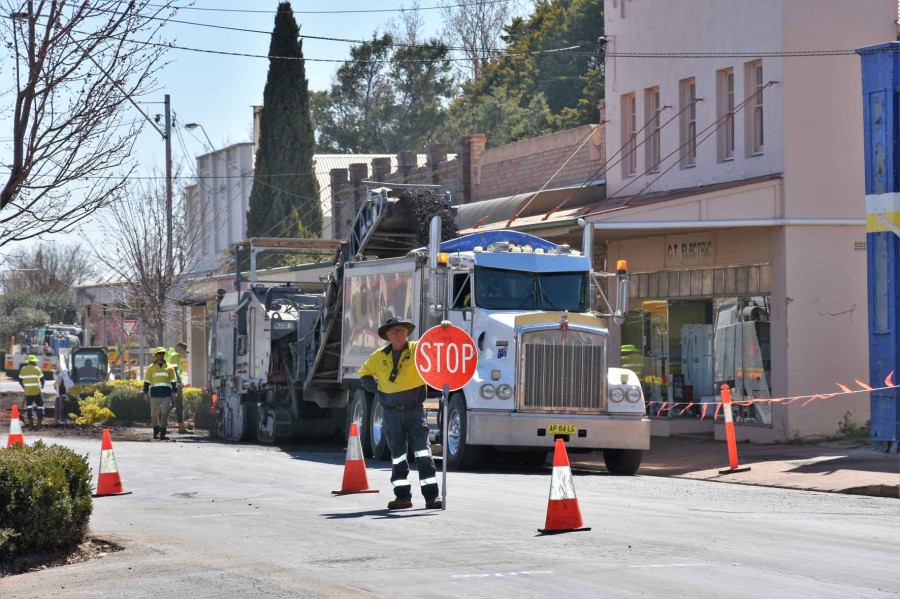 16th Sep 2019
Janelle Stewart
The reconstruction of the Guyra main street has now begun, so if you are planning a shopping trip you may want to plan ahead. Parking in the main street is limited, so you may want to consider parking in side streets, the NAB car park or behind Kirks IGA.
The roadworks are a major step toward the upgrade of Guyra's central business district and will improve the road's profile – reducing the slope from the centre to the road edges – and its alignment with the footpaths, as well as upgrading the road surface.
The $700,000 roadworks will restructure the section of Bradley Street between Nincoola Street and Ollera Street and contractors BMR are scheduled to complete the works by Friday September 27th.
The works will be done in stages to minimise the length of time each section of road is closed to traffic and Council officers have been liaising with main street businesses to discuss the works and plan arrangements to prevent disruptions.
Water for the roadworks will be sourced from one of Council's bores, rather than using the town water supply during the ongoing water restrictions. The start of roadworks marks the start of Stage 2 for the Guyra main street upgrade.
The $600,000 first stage included main street upgrade designs, identifying and remediating disused fuel tanks beneath the road and footpaths, dealing with soil contamination caused by the fuel tanks, inspecting infrastructure beneath the road and assessing the structural integrity of shop awnings.
As part of Stage2, Council is liaising with property owners to address any structural and safety issues with the awnings. In additional, Essential Energy will this month begin planning and designs for electricity infrastructure along Bradley Street, to remove powerlines from the shop awnings.
Once the road restructure and resurfacing is complete, council will then proceed with new traffic furniture and street scaping.