Anzac Day 2021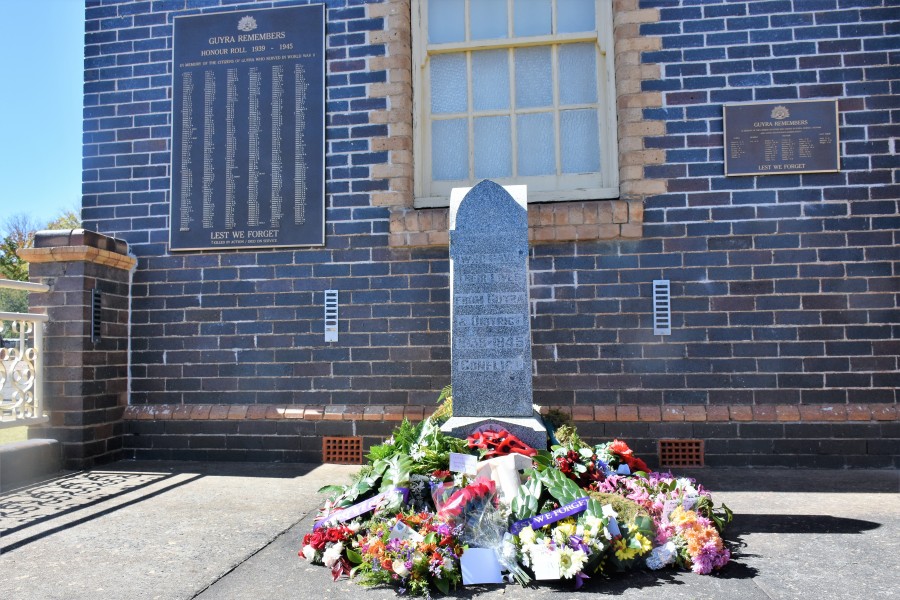 27th Apr 2021
Autumn colour provided a spectacular backdrop for this year's Anzac Day commemorations in Guyra. The day commenced with the traditional Dawn Service, followed by a 9am service at the Guyra MPS and then on to the main commemoration march and service at the Soldiers Memorial Hall.
The day brought together young and old from across the community and further afield including member of RAAF 1 Squadron at Amberley who were front and centre at all three services.
The squadron has a special connection with Guyra as the final resting place for two of their flight crew who died in an F-111 crash in 1993. While in the area, they paid their respects by visiting the crash site memorial at 'Neeworra', and were pleased to see that it is well maintained by property owners Bob and Belinda Williamson.
The commemoration address was delivered by Member for Northern Tablelands Adam Marshall, who reflected on the contribution made by service men and women from the Guyra District and across the New England.
Chris Hietbrink from the Guyra RSL sub branch said that community participation is something that is appreciated by their members, particularly the large turn out of schoolchildren. They are also grateful for the support provided by the VRA, SES, Police and Ambulance service to ensure the day ran smoothly.
Chris made special mention of Guyra's oldest veteran 104 year old Ted Mulligan for a huge effort to attend the service in the true heroic spirit of ANZAC, as well as 94 year old Ron Vickress who participated in the march.
Special thanks also to Keith Robinson, Wayne Mills, Jamie Mills, Bev and Max Handebo and Gary Starr for their assistance to ensure the smooth running of the day. Donations collected on the day will go toward the RSL Sub branch and will be used for care of veterans and their families.
Following the service there was a great roll up of veterans and their families who attended lunch at the Guyra Bowling Club. Thank you to Donna Kennedy and the
Bowling Club for making the veterans welcome.
The Guyra RSL sub- branch is a small group and are
always on the lookout for more people to become invloved. Their AGM will be held 19th May 10am at Soldiers Memorial Hall and they would welcome anyone who wants to connect with the sub branch.
For more information about getting involved please phone Hans Hietbrink on 0402 044 891.