How to protect your health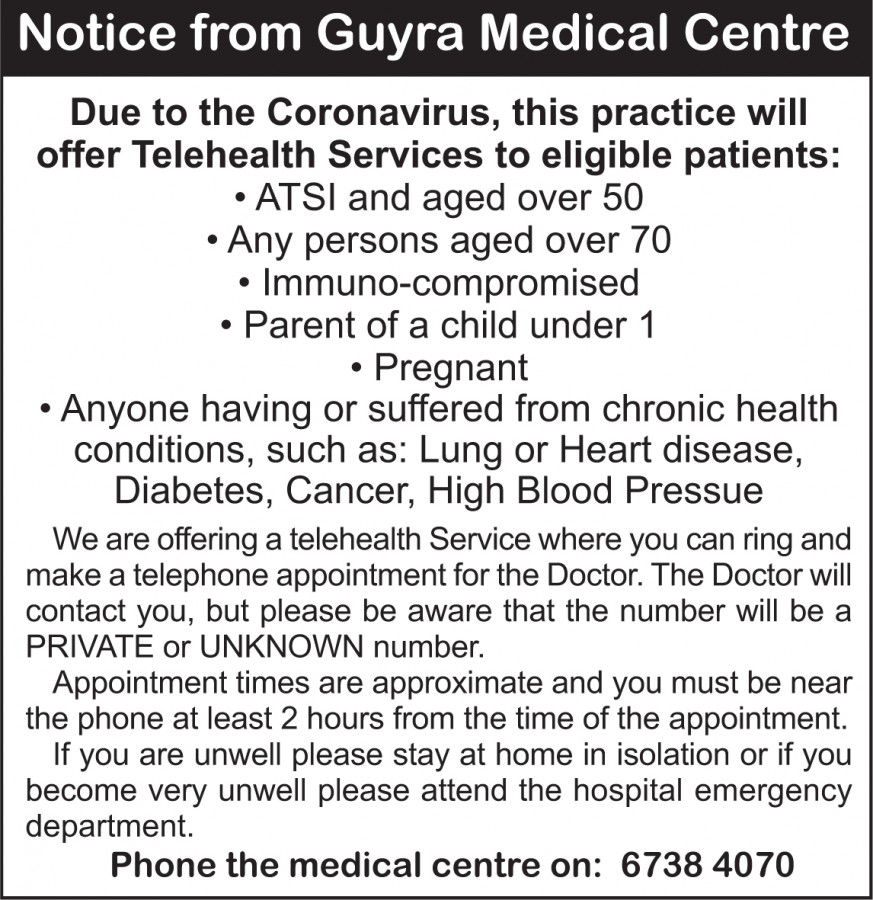 17th Mar 2020
Janelle Stewart
There have been no confirmed cases of COVID-19 (coronavirus) in Guyra, and staff at the Guyra Medical Centre are hoping to keep it that way. They have plans in place to protect patients and staff during the current crisis, while also supporting the health needs of the wider community.
Staff underwent training on Monday and procedures are now in place to control the spread of seasonal colds and flu as well as COVID-19. The measures are aimed at protecting the most vulnerable people in the community and preventing the virus from taking hold.
You are considered more susceptible to COVID-19 if you are:
• At least 70 years old
• ATSI over 50 years old
• Pregnant
• Parent of a child under one
• Already under treatment for chronic health conditions
• Immune compromised
Telehealth (telephone) consultations are now available which will allow those at risk to stay in their home. Appointments will be taken by phoning the clinic and a time will be set aside for medical practitioners to call back. This will allow for patients to renew scripts and seek advice without having to leave home.
These consultations will be bulk billed. Scripts will be sent directly to Guyra Pharmacy who will arrange collection or delivery.
Patients with cold and flu symptoms who think they need to be tested are also being asked to phone for an appointment. They should avoid coming directly to the clinic, and will be seen during set hours with the aim of keeping them separate from the rest of the patients. If testing is needed, patients will be asked to stay in their car and staff will come to them.
There is no vaccine against COVID-19. Seasonal flu vaccinations will be available in mid-April and the community will be advised when they are available.
Plans are being made to run vaccination clinics when it becomes available. This will
ensure that as many people are vaccinated as possible.