A year in Mexico for Ingrid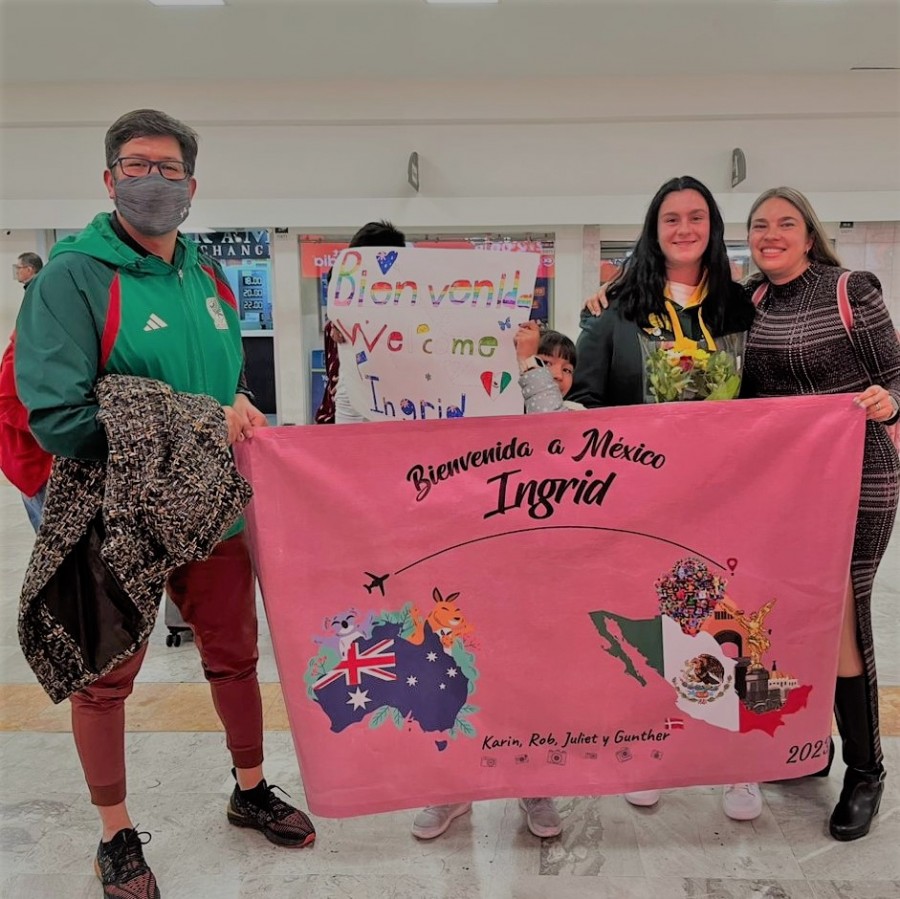 14th Feb 2023
In January, the Rotary Club of Guyra farewelled Ingrid Chilcott-Geere on the adventure of a lifetime. Ingrid will spend this year in Mexico as a Rotary Youth Exchange Student living in the Mexican community and attending a local school.
Over the next 12 months she will learn a lot about herself and the culture of her host families and their country, as well as experiencing a new way of life.
The Rotary Youth Exchange Program will enable Ingrid to make life-long friendships with her host families, Rotarians and fellow exchange students from other countries.
President Wendy Mulligan said that it is a privilege to be able to send local students on such a life-changing experience. While she is away, Ingrid will provide the club with regular reports of her activities. This week, Guyra Rotary Club members were thrilled with her first report from Mexico.
January Report
Oh my God, what a big 12 days it has been. I knew Mexico would be different but I couldn't have dreamed of just how much so. After landing around 11PM on Thursday night I winged it through Mexican customs before walking through to meet my first Mexican family.
I was greeted with posters, flowers, and most importantly three smiley, excited faces. Lots of hugs later we left the airport and headed for home.
My amazement was almost immediate when we got in the car and they had built in TV's in the backseats, and then proceeded to drive off on the 'wrong' side of the road.
We live just over an hour from Mexico City so we stopped along the way at a little restaurant. I had the best taco ever (ever being until Saturday) and a sweet pink drink made from hibiscus nectar.
After lots of misunderstanding, and repeated chatting, we arrived home. We arrived at the community's entrance and there was water cascading down the walls like a waterfall.
When I was shown my room I believe I would have been less surprised if there had been a colony of penguins in my bed. I went upstairs to my bedroom and discovered it was bigger than 85% of Sydney apartments.
The one 'bedroom' contains a full ensuite bathroom, a floor to ceiling walk in closet, a two seat lounge, queen bed and a whole set of stairs leading to an indoor balcony bigger than my whole Australian bedroom. I unpacked my whole suitcase haphazardly stuffing it drawers and on shelves then crashed.
Life has just been a whirlwind since then. In the middle of the community is something they call 'The Casa Club.' It is like an all-inclusive community centre with a cinema, rooftop tennis courts and soccer fields, an indoor squash court, separate social rooms for kids, teenagers and adults, a hairdresser/barber, a spa, a small grocery shop, a cafe, multiple sized and shaped swimming pools, a yoga/dance studio and a gym.
My host parents Karin and Roberto took me to the Casa Clubs cafe for breakfast on Friday morning before setting up my phone then relaxing ahead of a busy weekend and week.
On Saturday lunchtime we headed to Karin's grandmother's 80th birthday party. I met her nieces and nephews, aunts and uncles, cousins and parents as well as many friends of the nieces and nephews.
We had a big lunch catered by Chef Gallo (a nephew), who is a chef and restaurant owner. This is where I had my second best taco ever in two days. The dish is called birria and consists of meat and cheese in a tortilla, garnished with coriander and diced onion, that you dip in or drink with a warm spicy liquid sauce.
Her nieces and nephews, along with their friends, played lots of popular Mexican music. They also had an impersonator and a mariachi band. The party lasted at least 12 hours with us leaving at midnight.
Sunday was church. I still don't believe in God and didn't understand anything they said but the building itself was so gorgeous. After church we had brunch with two of their friends, who both work at Instituto Metepec and send their 1 and 3 year olds there.
I start school at 7AM and get picked up at 2:30 PM. School lasts 7 ½ hours with 50 minutes of breaks. It has been good so far except that only one girl speaks a bit of English but it is helping me practise and improve my Spanish.
On the first day they played me music, bought me some lollies to try and asked a lot of questions. We also helped move old artwork to a spare room in the primary school and played volleyball.
I've also attended my first two Spanish classes, the first was not good as they just spoke about their holidays completely in Spanish but the second was better, we played Spanish word bingo called Lotteria and practised using and adapting verbs.
I attended my 2nd birthday party on Friday night, this time it was a karaoke party so if you know me you will know just how excited I was about it. Saturday I stayed home because I didn't feel well so I just cleaned a little and cooked by myself for the 1st time since I got here.
On Sunday I attended the 'Ballet Folklorico de Mexico' at the Palacio de Bella Artes in downtown Mexico City. It was an immersive and wonderful experience all round, the architecture was amazing and the show was so vibrant and interesting.
It was by far the coolest thing I have ever seen (yet), besides the grown man wearing a leotard, dressed as the devil doing the macarena. I do not know how to feel about that part.
I am beginning to feel that what they say about coming back as a different person is true.
I am learning Spanish and how to cook Mexican food. I genuinely enjoy going to school and I have been journaling and going to the gym every night. Overall my first almost fortnight has been amazing, I have experienced and tried so many new things and look forward to my next 11 months in Mexico. Well wishes from Mexico,
Ingrid CG.