Crowds turn out for Anzac Day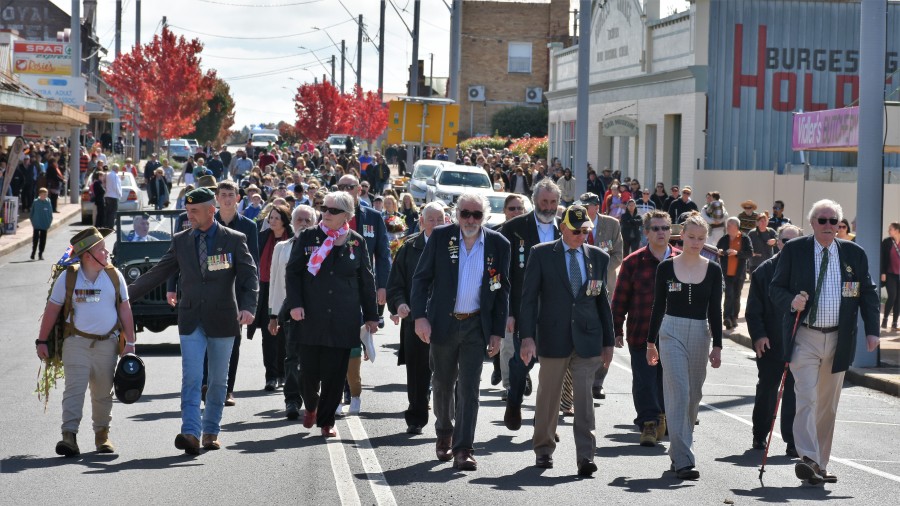 25th Apr 2023
It was a chilly start, but the rain stayed away for the duration of the Anzac Day dawn service in Guyra with around 200 people gathering at the Soldiers Memorial Hall. Commemorations also included a 9am service at the Guyra MPS and the mid-morning march and service at the Soldiers Memorial Hall, with a large crowd in attendance.
At the main service RSL sub-branch President Hans Hietbrink acknowledged the contribution of 150 young men from the Guyra District who left to join the 33rd Battalion AIF, 1st Light Horse Brigade and other Battalions 107 years ago.
He said that Anzac Day has become more than a commemoration of those who served in World War One.
"It now represents a day when we remember and pay tribute to all the men and women of all of the armed forces and the civilian forces who paid the supreme sacrifice in all conflicts throughout the world," he said.
"At the same time on Anzac Day we salute the men and women currently serving in our armed forces both at home and abroad and we honour our peacekeeping forces who are currently serving."
"Our remembering will not bring back those who died or were injured, we know that our remembering will not alleviate the hurt of the families, but we still remember."
The commemorative address was delivered by Member for New England and Shadow Minister for Veteran Affairs Barnaby Joyce.
"To all those who served our nation and to all those who had family members who served our nation, I thank you," Mr Joyce said.
"Why did they do it? They were just ordinary people, they grew up around places such as Guyra. They would have had families just like you, they lived the same life that you live now but they made the sacrifice to go off and serve our nation."
"They did it because they believed in our nation, they believed in our democracy, they wanted to make sure they kept the children of this nation and the people of this nation safe. That's why they did it."
"Today is about remembrance. We always say 'Lest we Forget', but why do we say that? We say that because if we do forget, if we do take them for granted then what on earth did they do it for? All I ask is that you remember them and you respect them."
Participation by local schoolchildren was once again a special part of the day. They filled out the ranks of marchers and were active participants in the ceremony. Latai' Ale from Black Mountain Primary School read the Prayer of Remembrance, Baxter Clark from St Mary of the Angels read the Prayer of Freedom, Guyra Central School Captains Harris Dullaway and Nioka Levy read the Prayer for the Australian Defence force and Henry Evans from Bald Blair Primary School read the Prayer of Peace.
A contingent from RAAF 1 Squadron at Amberley were present at all three services. The squadron has a special connection with Guyra as the final resting place for two of their flight crew who died in an F-111 crash in 1993.