Rotary Club begins new term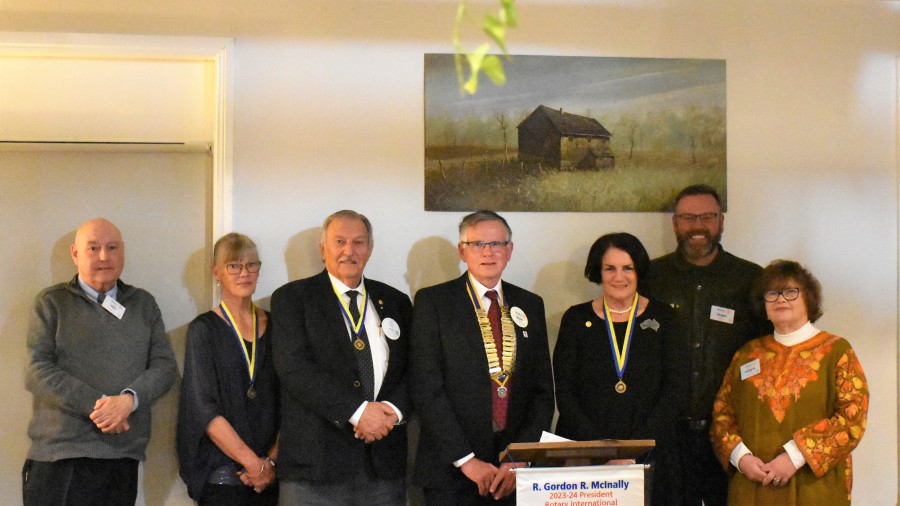 08th Aug 2023
The Rotary Club of Guyra held their 77th Changeover dinner on Saturday, 5th August at Rafters Restaurant.
David Kanaley will take over the role of President for the coming year and was inducted by Past District Governor Bob Ryan from Armidale.
Outgoing President Wendy Mulligan reflected on a successful year for the club, saying that we have been able to intersperse fun with work.
Incoming President David Kanaley said: "When I moved to Guyra seven years ago, I never imagined I would join Rotary. I soon learnt that at the local club level Rotary did all it could to support youth in the community, the community more broadly as well as reaching out to communities in other countries.
It was the effort to reach out to people in other countries that initially attracted me to stay on in Rotary."
But David became interested in how the Rotary Club of Guyra was working to open the minds, possibilities, and opportunities for Guyra's youth.
He said, "we need to do all we can to open doors for them."
David quoted some old proverbs. One says:
"Teachers open doors, but you must enter by yourself."
And another says:
"As one door closes look around another is ready to open."
"While these proverbs apply to us all regardless of age, to enable a young person to enter by themselves you need to equip them with skills, confidence, and knowledge. Rotary has several programs that try to do this; that go beyond school programs.
And if a door closes, as a young person, you need to be resilient and positive enough in your own abilities that you can indeed change direction, open another door and step through it.
Rotary has programs that help to do just that. For example, its leadership and Rotary Exchange programs."
In his year as President, David told those attending the changeover dinner that he wanted to see the Rotary Club of Guyra continue with its support for youth programs both here in Guyra and in hosting a Rotary International Exchange Student along with the Rotary Club of Uralla from early 2024.
The Rotary Christmas Street Party would remain a signature event. The Book Fair will be run again this year as part of the TroutFest event.