Soup kitchen hits the spot
28th Sep 2021
Janelle Stewart
In March this year, Sheree McGinty began operating a soup kitchen with the support of her family and Church community. The soup kitchen is open every fortnight at Guyra's Church of Freedom in Nincoola St, offering a free community meal to anyone who wants to come along. The idea came from her love to serve and help people.
Sheree prepares the meals that her own family enjoys and serves it up for all comers, usually till all the food is gone. They also offer a delivery service for those who don't feel safe coming out right now with the pandemic and there is a takeaway option too.
While she normally cooks everything herself, there are times when friends offer to cook something and she appreciates that others share her sense of purpose and desire to give back to the community.
"God is so good to me and this is my way of showing people the love and kindness of my Lord and saviour," Sheree said. "I connect with so many people who are lonely and don't really have the finances to go out."
"It is not just for the poor and hungry, this meal is for everyone! I connect with people in the community who are lonely and this is an opportunity for them to get out and meet others in a safe and friendly environment. It is also good for some of our overseas workers to come and enjoy a nice 'aussie' meal.
At the moment there are around 40 regulars who come along, however some nights there are more and some less. Due to COVID restrictions they can only serve 20 at one time in the Church at the moment. However, that hasn't been a problem as some just eat and go home, some take away and some meals are delivered.
"All the feedback has been very positive with everyone being very grateful for the yummy food and opportunity to meet new people," Sheree said. "We had one lady say that when she came into the kitchen, she felt like she was home, which totally melted my heart and I get joy from seeing people happy and full.
Sheree said that she doesn't do it alone, and has the support of her family, her Church and two very special members of the community - Paul Hartas-berry and Wayne Mackenzie.
"I couldn't do it without them," she said. "I just want to say THANK YOU to everyone for coming and making this service a blessing for the community. I have also been so blessed with some very kind donations, which, however unnecessary, are very much appreciated."
All food is prepared in a clean environment abiding by the State's health and hygiene regulations. The Soup Kitchen is open every second Friday night from 5pm, opening this Friday October 1st and fortnightly until December 24th.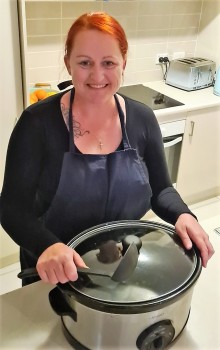 click for larger image