Who will be our Citizen of the Year?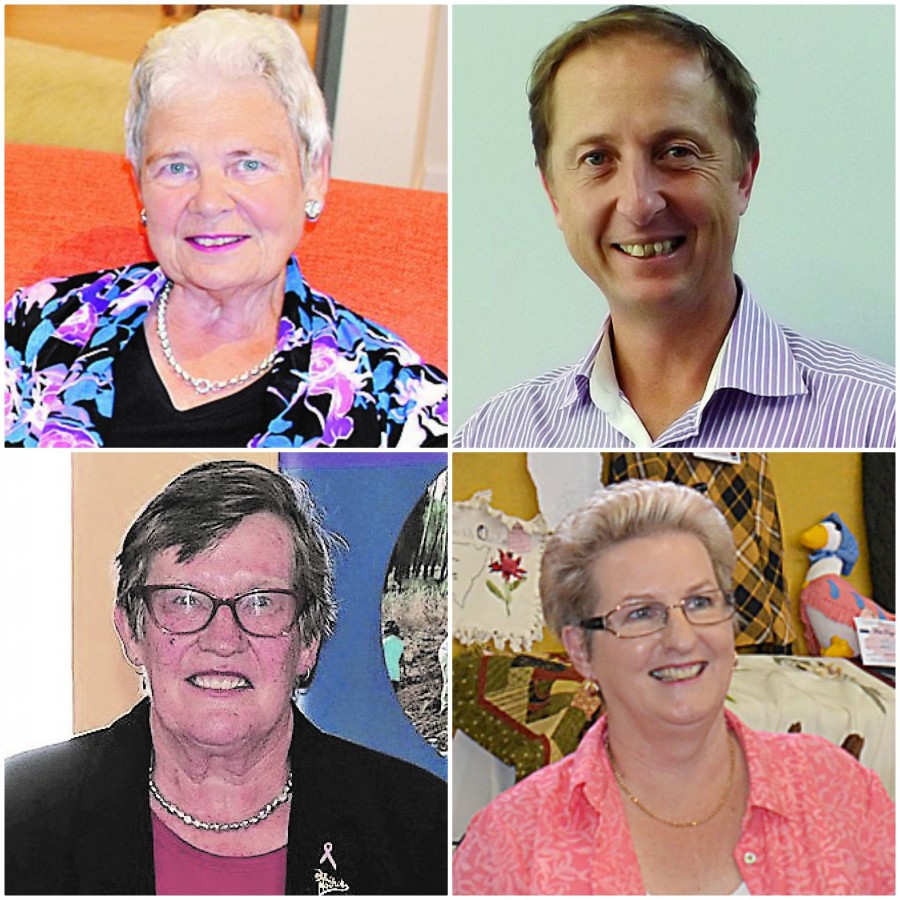 22nd Jan 2020
Nominations for Australia Day Awards in Guyra have unearthed four quality candidates for this year's top honour. Chris Sole, Dianne Burey, Sue Adams and Julie Stride have been nominated for their service to the community over many years.
The winner will be announced at a dinner being held at the Guyra Bowling Club this Saturday. Awards will also be handed out in a range of other categories including Young Citizen of the Year, Sportsperson of the Year, Contribution to Sport, Community Event of the Year, Community Service and Art & Culture.
Chris Sole
Chris is a valued member of the Guyra Show Society, where he has held the position of treasurer for over 15 years. During this time Chris also undertook the President's position from 2011-2014 while still remaining Treasurer.
He has established a strong co-operative relationship with his fellow members of the Show Committee, and is willing to help out where required, be it the barbecue, bar, or at working bees.
Chris has also been treasurer for the Guyra Bowling and Recreation Club and the Guyra Rugby Union Club for a number of years, assisting with all financial aspects of the organisations.
Chris also volunteers at a number of community events including the Lamb and Potato Festival, and gives freely of his time to many community organisations as he audits their books.
Sue Adams
Sue is a warm caring person who volunteers in a large number of community organisations. She is well known and respected throughout the Guyra community and is passionate about helping anyone in need. Sue is always on call and willing to give her time to train and mentor other volunteers. She is never judgemental and respects and maintains the privacy of others.
Sue is a long term member of Can Assist and has been secretary for five years, liaising with clients and oncology nurses in the region. She is also a member of the St Vincent de Paul Guyra Conference (serving as President for four years), Catholics Women's League (President and does pastoral work) Sue also volunteers monthly with Meals on Wheels.
She runs weekly exercise groups for Guyra Home Support Services, founded the Healthy Highlanders exercise group and convenes the Heart Foundation Walking Group. She is also a long-time member and former President of the Garden Club, and a long-time member of the Neighbourhood Centre and Guyra Community Garden.
Julie Stride
A resident of Ben Lomond, Julie makes significant contributions to the community. Through working the manual telephone exchange until 1989, her long-time relationship with the local community encompassed a largely incalculable and unrecognised component of community service.
Across the years and currently, Julie continues as a pivotal part of the planning and coordinating committee for the annual ANZAC Day, Australia Day and Christmas Carol ceremonies in Ben Lomond. As a competent musician, Julie underpins such events. She also coordinates the hall's piano maintenance. She has always been a part of past school performances, has contributed to the Guyra Combined Churches' Choir and is regularly called on for additional musical interludes on other occasions such as the Ben Lomond Winter Fair, Fashion Parade and the
Anglican Christmas Eve Service.
Julie is advisor, collaborator, and provider for a variety of Ben Lomond Hall catering activities, from a small afternoon tea, through to full wedding catering and everything in between. In addition, Julie provides an annual audit for some community organisations for which she no longer has a direct affiliation, but a sound understanding because of past involvement, community interest and knowledge – such as P & C, RFS and Ben Lomond Water Users Group.
Over many years Julie has served the Glen Innes and Guyra Show Committees as a steward in the sewing and handicraft sections in the pavilion, also judging by invitation at other district shows.
Dianne Burey
Dianne has made a significant contribution to the community through her volunteer work. She was a volunteer at the Guyra Central School canteen for thirteen years from 1991 until 2003. She also served two terms as President of the Guyra Central School P & C Association.
Dianne has been a head steward of the Jams & Preserves for the Guyra Show Society since 1999, is the current treasurer of the Guyra Uniting Church and has volunteered at the Lamb and Potato Festival for 20 years. She has been a member of the Guyra Hospital Auxiliary for 17 years and served three terms as President and is currently the Vice President.
Her ongoing contribution to the community continues to benefit a wide range of people within the community. She is a tireless worker who always gives 100% of any task she takes on.