Poetry in motion, despite isolation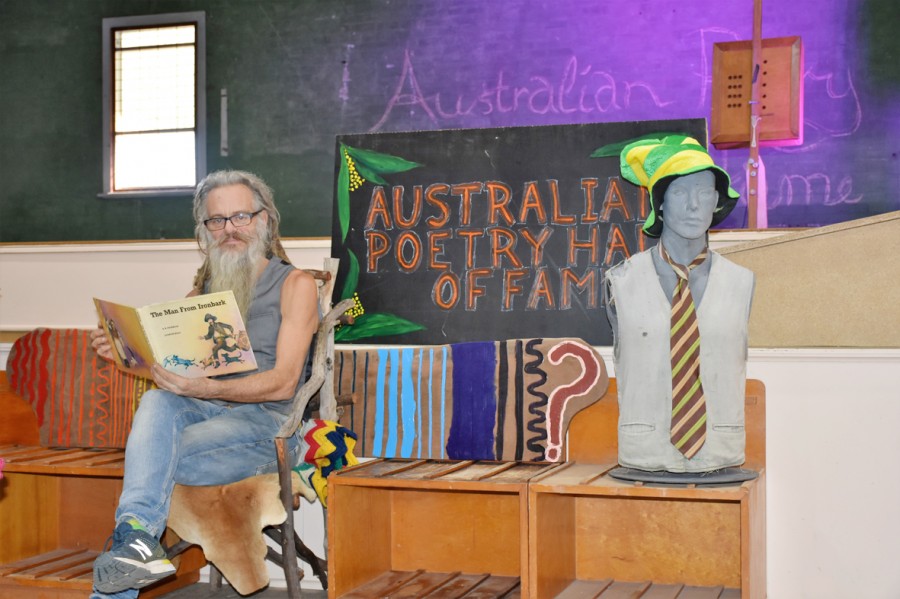 14th Apr 2020
Janelle Stewart
"There will be art on the walls, decorated halls, galas and balls and many curtain calls."
That is the promise of James Arthur Warren (aka Thundercloud Repairian), who is moving forward with plans to create the Australian Poetry Hall of Fame in Guyra. Arriving at the same time as the coronavirus pandemic hit has not dampened his enthusiasm, but instead has allowed him to focus on planning.
While the rest of the town has bunkered down to ride out the health crisis he has been filling up the former Arcadia Theatre with a colourful and eclectic collection which includes neckties, doilies, comics, artworks and a collection of poetry books. He is also working on his plans to make the venue a new tourism drawcard for the town..
His main aim is to celebrate Australian poets by filling the shelves with their books, covering the walls with their portraits and creating a venue which will showcase their work and bring poetry to life.
Part of his plan is to restore the theatre as an entertainment venue in Guyra, returning it to its past usage as a theatre and cinema. He has also set aside space to establish an audio/video archive of indigenous languages and in the future hopes to establish a small restaurant.
A community meeting to outline his plans for the building will not go ahead due to coronavirus restrictions, however he is still aiming for a grand opening in September this year.
"Feedback has been really positive so far and I am really excited and happy to have a project that could breathe life into the town," James said.
"I really want to provide a space where we can preserve and celebrate our wonderful Australian poets, but I also want to involve the community and give people a space where they can flourish."
"I would like to talk to local artists who want to be part of my plan to paint murals of famous Australian poets to decorate the walls."
James is seeking donations of Australian poetry books to help fill the shelves. He is also hoping to be able to offer traineeships in creative arts, visual arts, media and publishing a well as mentoring for authors who want to self-publish.
You can follow the Australian Poetry Hall of Fame on Facebook and check out video updates on Youtube.