Oval named in Ted's honour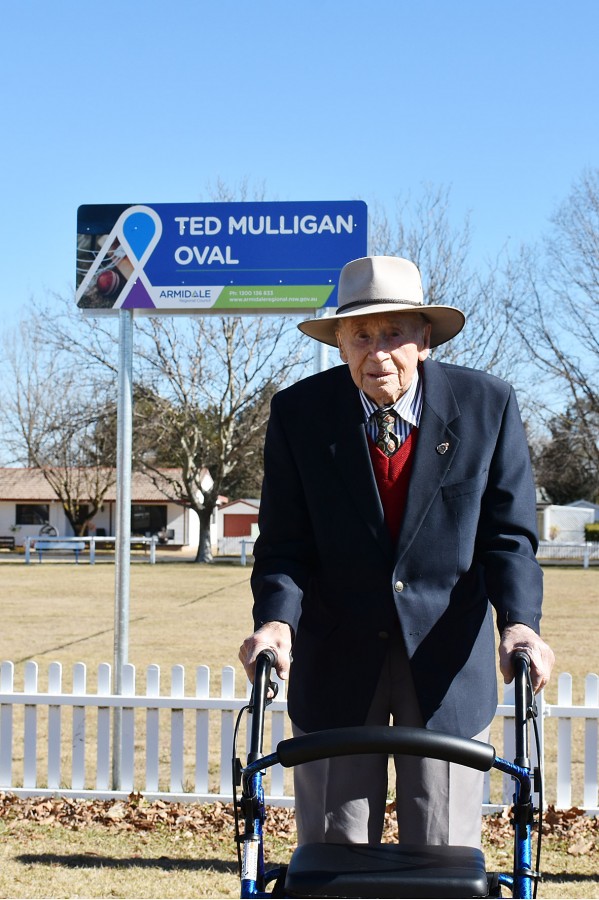 12th Jul 2019
Janelle Stewart
If you were writing the history of cricket in Guyra, one name would stand out from the rest. In recognition of a lifetime's commitment to the sport, the main cricket oval now bears the name of Ted Mulligan who has been a player, an administrator, and promoter of the game for most of his 102 years.
A ceremony was held on Friday, July 12th with ARC Mayor Simon Murray and Member for New England Barnaby Joyce joining family, friends and the sporting community to unveil new signs recognising his legacy.
Ted was instrumental in constructing Guyra's turf wicket at the recreation ground and the timber for the original fence around the oval came from his property. The ground is still in use and is now considered one the best wickets to play on in the Armidale District.
It was a fitting way to honour Ted who always loved his cricket and was as good a batsman as any to come out of Guyra. He captained the Glenore Club team, which consisted almost entirely of Mulligans, for many years and was a regular member of the Guyra and Northern Tablelands representative sides. He was still playing in his 60's
"I never thought anything like this would happen to me and I consider it a great honour and a privilege for both myself and my family to have the oval named after me," Mr Mulligan said.
"I have always been a cricket fanatic and I scored my first century in competition cricket on this ground at around 17 years of age. I have had many good wins on this oval and many floggings too but that is the beauty of sport, you win some and lose some as well, the enjoyment is in competing."
Armidale Regional Council Mayor Cr Simon Murray said this was a fitting tribute to man who has and continues to do so much for the Guyra community.
"What a fantastic opportunity to acknowledge such an admirable member of the community by naming the oval after Ted," said Cr Murray
"Guyra is lucky to have a citizen like Ted who has made outstanding achievements throughout his life and has dedicated much of his time to the community."
Messages of support were received from some notable people including former Prime Minister John Howard and former Australian cricket captain Adam Gilchrist. Former test cricketer Rick McCosker played some of his early cricket in the area and shared some personal memories of playing cricket in Guyra.
"I wish to pass on my personal congratulations to Ted and his family on the occasion of the naming of the "Ted Mulligan Oval". This is a truly fitting tribute to a remarkable life.
As Prime Minister, I remarked - only half-jokingly – that the most important job in the country was the captain of the Australian cricket team. The captain of the local Cricket team is no less important for a country community, but perhaps more complicated, especially when all 11 members of the team are family members."
John Howard OM, AC
"The list of your contributions to Guyra and Northern NSW is outstanding. I salute you, Ted, and pay tribute to all that you have achieved. The naming of your cricket oval is small recognition but represents the status in which you are held throughout the whole region. I am in awe of all that you have done and can only say well done - AND THANK YOU"!
Adam Gilchrist ("Gilly")
"Ted, I'm in awe of your many achievements during your lifetime, not least of which is making your century, and still batting. Every town and community needs a giving citizen such as yourself to ensure it is a progressive and better place to live – and to play cricket!
Your work in constructing and laying the turf wicket interests me as I remember my trips to Guyra for Inter-district matches and playing on coir matting, I never enjoyed the car trips over the dirt roads from Inverell on Sunday mornings, arriving unwell in Guyra - freezing cold in the morning but very hot by afternoon.
These trips were a very important part of my formation as a cricketer and a person, witnessing the love of the game itself, and having the opportunity to match it with older men. I owe a big debt to the men who played "country" cricket and those such as yourself who have worked over the years to provide the necessary opportunities and facilities."
Rick McCosker