Top agri-award for Guyra farmer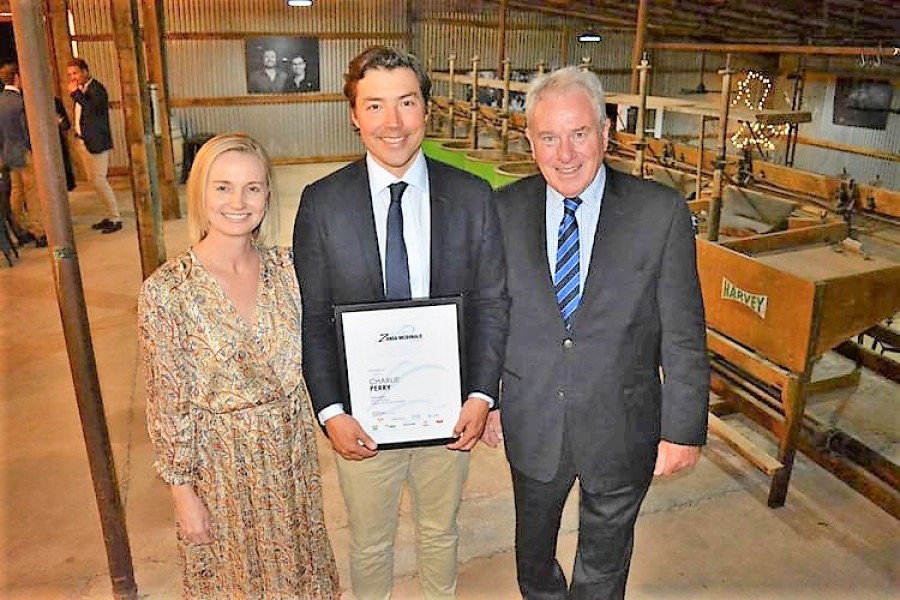 15th Feb 2022
Leadership, vision and humility were the standout qualities that resulted in Charlie Perry taking out the 2022 Australian Zanda McDonald Award last week. The Zanda McDonald Award supports talented and passionate young professionals in the ag sector from Australia and New Zealand.
Charlie, who lives and works on his family-owned and operated wagyu beef farm at Guyra, returned to his passion for agriculture after a successful career in business consulting, and hasn't looked back. Since taking over management in 2016, he's overseen substantial growth in their family business, despite some of the worst years of drought on record, with a focus on productivity gains, genetic indicators and sustainability. He also serves as president and chair of the Australian Wagyu Association (AWA).
Perry will receive an impressive trans-Tasman prize package centred around mentoring, education and training that is 100% tailored to his needs.
Zanda McDonald Award Chair Richard Rains that Charlie demonstrates all the key qualities that epitomises the Award, which stood him above an outstanding field of finalists.
"His passion for agriculture is obvious, and has resulted in him significantly growing his family seed stock business, whilst being active in both his local community and industry associations," Mr Rains said.
"He has a clear understanding of the challenges that face both his business and the industry, and is providing cohesion and leadership through his involvement in the AWA. Charlie is an accomplished communicator, yet at the same time humble, and as judges, we're really excited about his future."
As the Australian 2022 winner, Perry will receive a professional development package that includes an all-expenses paid trans-Tasman mentoring trip to high-performing farms and businesses in Australia and New Zealand, $10,000 towards further education, and incredible networking opportunities. The Award would normally crown one winner from across Australasia, but in response to COVID-19 related travel restrictions, an Australian and a New Zealand winner have been crowned this year. Rhys Roberts was announced as the New Zealand 2022 winner last week, and both Roberts and Perry will undertake their mentoring trips over the next 12 months.