Bin audit identifies need for more organics diversion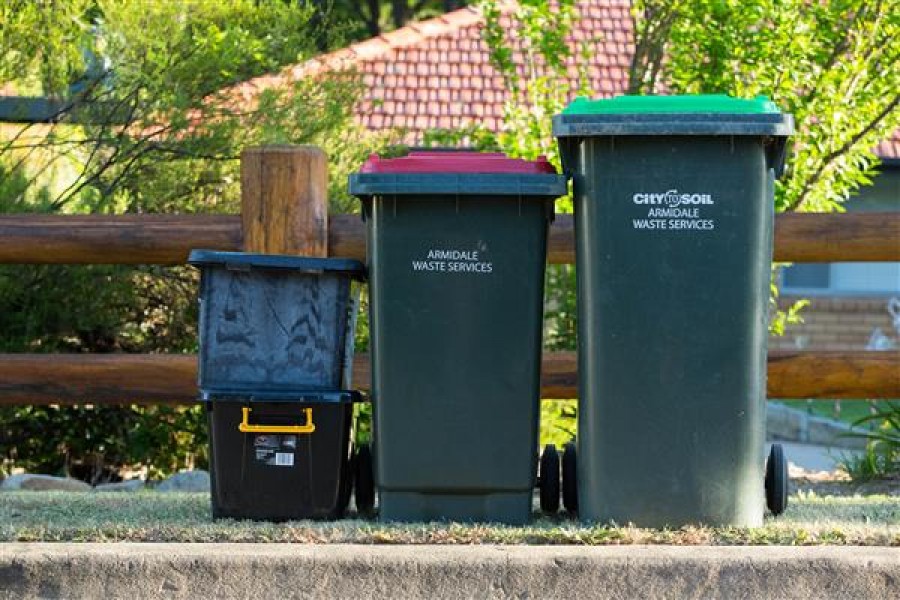 01st Sep 2020
An audit of Guyra residential kerbside bins has found that waste in the red-lid general waste bin contained, on average, around 40% organic waste that could be reused.
While there were a number of positive findings from the audit, it did identify the potential to divert a lot more organics waste from landfill through Council's successful City to Soil program, Interim Administrator Viv May said.
"By weight, loose food waste comprised the largest component of material in the red-lid bin and represented an additional 2.4kg of organic waste that could be redirected to City to Soil," he said.
The audit in mid-June coincided with the first anniversary of Council's extension of the City to Soil kerbside collection to Guyra and evaluated how effectively the service has been adopted by households in that area.
A contract auditor assessed the contents of green-lid and red-lid bins at 100 randomly selected homes, to quantify levels of contamination in the organics waste bin and check the landfill waste bins for organic waste that should be directed to City to Soil.
In response to the audit results, Council will soon launch a renewed community information campaign about City to Soil and the items that should go in the green-lid bin. The campaign will incorporate Guyra and Armidale, with recent anecdotal evidence indicating there has been a drop in diversion rates of organic waste from red-lid bins in the Armidale kerbside collection areas in recent years.
The City to Soil program has been a national leader and a benchmark in organics diversion and reuse and the information campaign will aim to ensure strong community support continues to drive the program's excellent results.
The Guyra audit also found:
• the City to Soil service is highly effective in capturing garden waste from Guyra households, with 99% of collected waste placed in the green-lid bin, but there is a lot of room for improvement with food waste
• contamination in the green-lid bin is very low (1.4%)
• only 26% of food waste from households in the Guyra township is going into green-lid bins, the remainder is going in red-lid bins and into landfill
For further information and to read the audit report, visit the Waste & Recycling Collection page on Council's website.