Crowdfunding campaign launched for rail trail business plan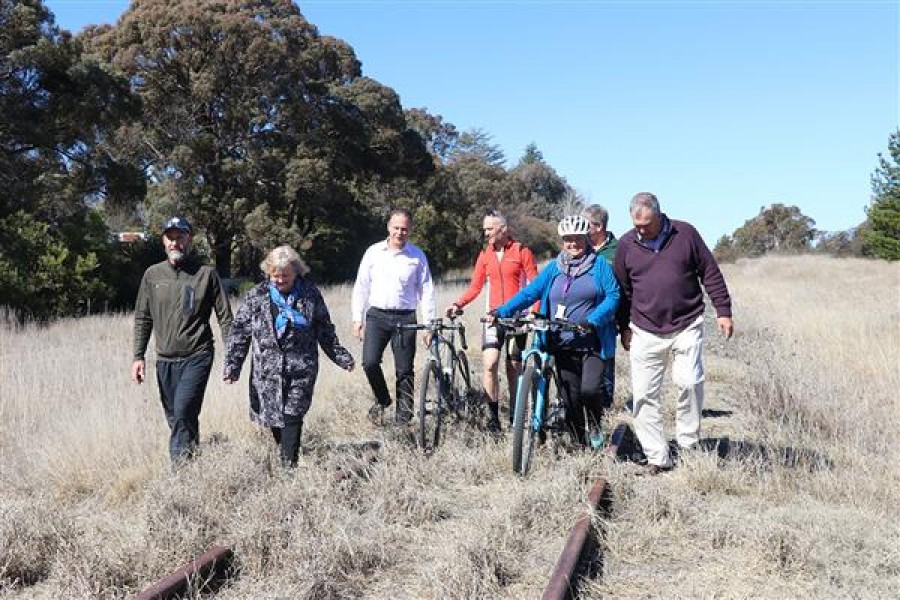 06th Aug 2019
A crowdfunding campaign to develop a business plan for a rail trail on the disused section of the Great Northern Railway line between Armidale and Glen Innes was launched on Tuesday by New England Rail Trail Incorporated and supported by Armidale Regional Council and Glen Innes Severn Council.
Both Councils resolved to support a rail trail which is anticipated to be a key tourism driver for the New England High Country region. Armidale Regional Council has already financially supported the rail trail concept by funding an independent feasibility study last year and Glen Innes Severn Council has contributed funds towards the business plan.
A key process of the plan will be to identify engagement opportunities with the broader community to ensure that everyone is well informed and understands what a rail trail is particularly for those residents that have property adjacent to the disused section of the Great Northern Railway line.
Armidale Regional Council Mayor Cr Simon Murray said the business plan is a key document that will outline the business case for the project and identify engagement opportunities.
"The completion of a business plan will allow both Councils to make informed decisions about the financial impacts of maintaining the rail trail and weighing this up with the economic, tourism and recreational benefits to the New England region," said Cr Murray
"We will ensure that the broader community is well informed about the project and that all stakeholders are engaged throughout the process and any misconceptions are cleared up and based on the facts.
"I have no doubt that the rail trail will be a huge tourism and recreational drawcard for our region. Rail trials in other part of Australia have already proven to be highly attractive destinations for visitors craving a unique experience. We have a jewel in the crown just sitting idle that has huge potential and we must capitalise."
The crowdfunding campaign is aiming to raise $75k in total which will allow a 3 part business plan to be developed firstly for the Black Mountain to Ben Lomond section and then for the Armidale to Black Mountain and Ben Lomond to Glen Innes sections.
Both Councils along with the community organisation New England Rail Trail Incorporated are urging the New England region to get behind the initiative and donate.
Glen Innes Severn Mayor Cr Carol Sparks said that without the business plan in place and the support of the New England region we will be unable to lobby the State Government for funding.
"By contributing as little as the price of a cup of coffee you are making a huge difference in bringing a rail trail to our region," said Cr Sparks
"Now is the time to show vision and collaboration between the community and the councils in the region to work together and bring change and prosperity. We need to show the State Government that this project is a priority for all of us and will deliver a wonderful tourism asset that will drive visitation to the New England High Country."