Four nominations for Citizen of the Year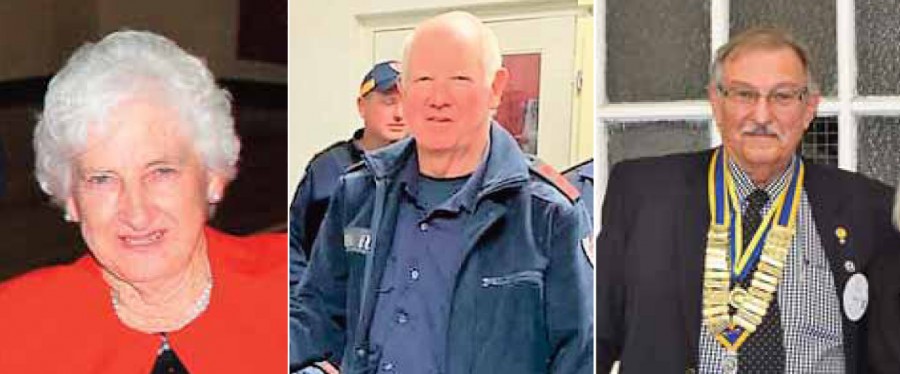 19th Jan 2021
Official Australia Day celebrations in Guyra this year will be scaled back due to current COVID-19 restrictions.
Instead of the usual awards dinner, winners will be announced at an outdoor ceremony in front of the Guyra council offices on Tuesday, January 26th. This ceremony will commence at 9.30 am and will include a short address from Australia Day ambassador Steve Widders and a flag raising ceremony will follow at around 10am.
There are four nominees for Guyra Citizen of the Year – Noreen Williams, Graham Williamson, Hans Hietbrink and Pat Darby.
Winners will also be announced for Young Citizen of the Year, Community Service Award for Group or Club, Contribution to Sport and Recreation and Community Event of the Year.
Noreen Williams – Noreen has made an enormous contribution to the Guyra Community over the past 40 years. She has delivered meals for Meals on Wheels since 1980, assisted with the Group 19 Rugby and Northern Tablelands Rugby League and has been a member of the Guyra CWA for over 40 years. Other contributions include volunteering at the St Mary of the Angels Church, she is a member of the Catholic Women's League, has worked at the Guyra Lamb and Potato Festival for over 20 years and has been a member of the Guyra Show Society for 40 years. Noreen is also a foundation member of the Guyra Probus Club.
Graham Williamson – Graham was a member of the Guyra Fire and Rescue team for 45 years, serving 38 years as Captain. He has also been a committee member of Guyra Show society, Kolora Aged Care Hostel, and was a founding member and volunteer at Guyra voluntary rescue association. He also was a local business owner for 35 years. Graham's contributions to the community has been selfless. Through his membership of the above organisations, he has always put the community first.
Hans Hietbrink - Hans has devoted 13 years to the community and is a member of the Rotary Club of Guyra, serving in a number of executive positions, and is currently the secretary. He served as a councillor and Mayor on Guyra Shire Council for 8 years, and remains active on council committees. He is also the President of the Guyra RSL sub branch, and is a past President and current board member of the Guyra Chamber of Commerce.
Pat Darby (photo unavailable ) – Pat runs a small menswear and school clothing shop in Guyra, which she continued to run throughout the drought, bushfires, and the COVID-19 pandemic. All though the drought she kept her shop open 5 1/2 days a week, always obliging to get special sizes if needed. Through these tough times, she went out of her way to help her customers and the local community. When COVID-19 caused some businesses to close, she kept the shop open on her own ready to get whatever may be needed locally.