Boost for Spring Festival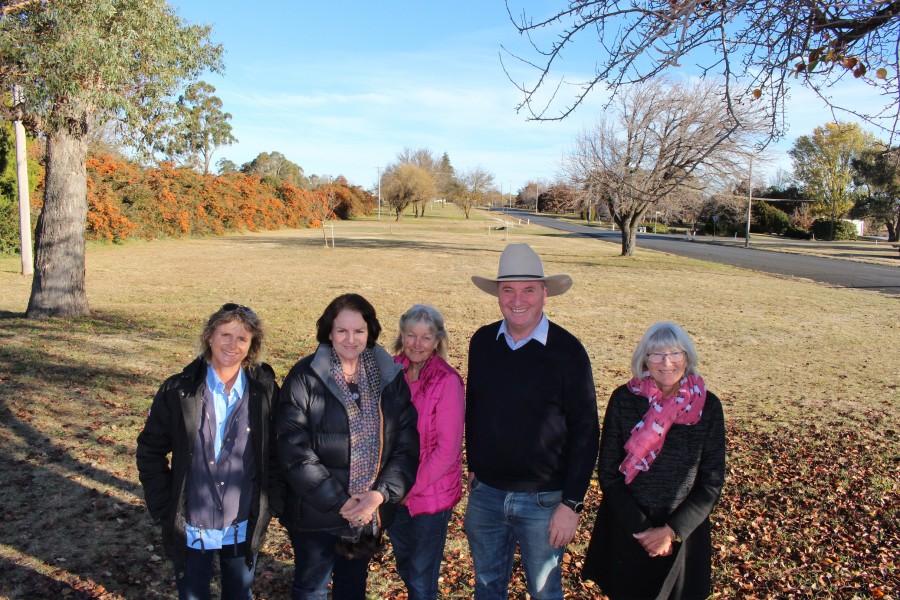 09th Jun 2021
A memorial avenue of trees, which was first proposed by the then Guyra Shire Council in 1951, is now set to become a reality. The Garden Club has been successful in gaining a total of $70,000 in grants towards the building of a memorial avenue and mandala garden in Rotary and Apex Parks, adjacent to the railway line in Bradley St/Lagoon Rd.
Garden Club President Wendy Mulligan has welcomed the grant funding which is part of the Spring Flower Festival initiative.
"The first Grant from the Fire Fight Australia Fund is for $10,000 from the Foundation for Rural and Regional Renewal – Strengthening Rural Communities grant program, will be used to purchase of trees for the memorial avenue, the preparation of the land and then the planting of the trees," Wendy said.
"The second Grant is also for $10,000, from the Department of Veterans' Affairs through the Saluting Their Service Commemorative Grants program, is for signage in relation to each tree. "A QR code will be attached to each sign to give immediate information on the serviceperson the tree relates to."
"The third grant of $50,000 from the Foundation for Rural and Regional Renewal – Tackling Tough Times Together program will be used for the design and construction of the mandala meditative garden and associated facilities."
Federal Member for New England Barnaby Joyce said the latest round of funding aimed to strengthen the capabilities, connections and wellbeing of local communities like Guyra. He said the Guyra Spring Flower Festival 2021 - Memorial Avenue & Mandala Garden will boost and strengthen the local economy.
"The Tackling Tough Times Together program has a range of benefits, including reducing social isolation, developing leadership skills, addressing disadvantage, reducing volunteer fatigue and stimulating the local economy," Mr Joyce said.
Sharon Bowles from the Guyra Garden Club said that the support of local members the Hon. Barnaby Joyce MP, Federal Member for New England and the Hon. Adam Marshall MP, State Member for Northern Tablelands is greatly appreciated in both identifying available grants programs and in supporting the Club's applications. So too is the support of the Armidale Regional Council, by letter and by Council resolution to enable the use of the Park for this purpose."
Treasurer, David Kanaley said that the completion of a memorial avenue and mandala meditative garden as part of a Guyra Spring Flower Festival will strengthen the resilience of the Guyra community.
The Garden Club expects the new festival to support the economic recovery of Guyra, especially its main street businesses from the recent drought and nearby fires, diversify the local economy by encouraging visitors and tourists to the town and build community pride and self-image.