St Marys athletics carnival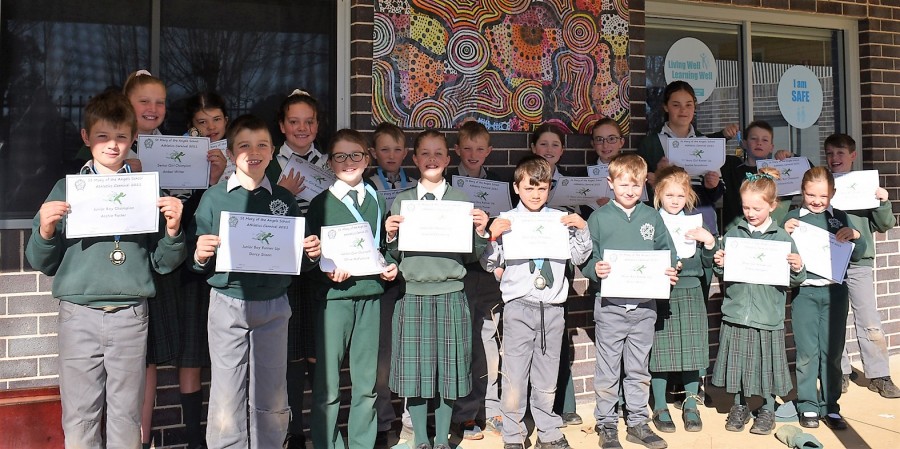 03rd Aug 2021
You don't have to be the best but it is important to be your best! Congratulations to all of our students for demonstrating positive school spirit and enthusiasm at our Athletics Carnival last Tuesday. The weather was absolutely perfect for a day of activity in the sun! We kicked off with the 100m age races with students demonstrating their sprinting and fast running talents. Students then rotated through the field events including Shot Put, Discus, High Jump and Long Jump.
A big congratulations to all of our Age Champions and Runners Up:
Minor Boy Champion - Hugo Sisson, Minor Boy Runner Up - Rylan Wilson,
Minor Girl Champion - Millie Neill, Minor Girl Runner Up - Emmy Hodgens & Jayde Cox,
Junior Boy Champion - Archie Foster, Junior Boy Runner Up - Darcy Sisson,
Junior Girl Champion - Olive McFarlane, Junior Girl Runner Up - Scarlett Newberry,
11 Year Boy Champion - Edward Grills, 11 Year Boy Runner Up - Henry Cox
11 Year Girl Champion - Alana Marshall, 11 Year Girl Runner Up - Sophie Spradbrow & Mackenzie Ellem,
Senior Boy Champion - Nayte Foster, Senior Boy Runner Up - Mavric Foster,
Senior Girl Champion - Lily McFarlane & Amber Writer, Senior Girl Runner Up - Tessa Jackson.