Community brainstorms 62 ideas and creates Mother of Ducks Landcare Group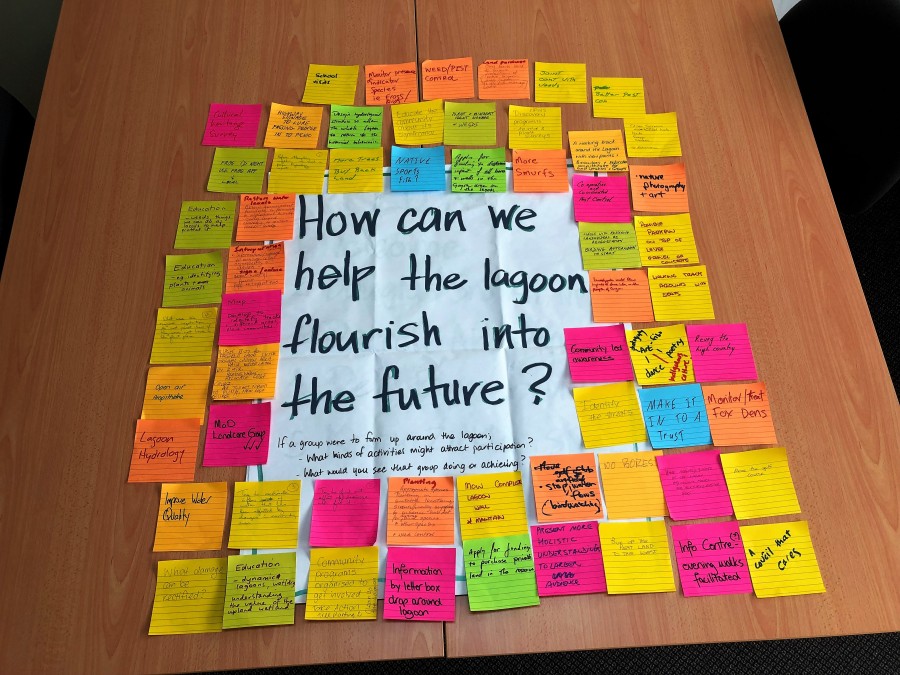 15th Dec 2021
Twenty-eight community members gathered in Guyra on a very wet afternoon on Wednesday 1st December, to focus on a special place in our Northern Tablelands landscape.
Southern New England Landcare's Executive Officer and the event organiser, Karen Zirkler said, "Mother of Ducks Lagoon is special because she is an upland wetland, underlain by peat, and depended upon by a myriad of native plants and animals – a rare kind of ecosystem indeed."
Deb Bower is a Senior Lecturer in Ecology and Zoology at UNE and Chief Investigator for the environmental trust funded Dynamic Lagoons Project led by UNE. .
Deb explained the reasons why Mother of Ducks Lagoon, and others like it in our region, are so special ecologically.
"These upland wetlands are important because of the unique habitat they form, supporting all kinds of plants and animals that rely on shallow wetland habitat," said Deb.
Mother of Ducks is a threatened ecological community, like a threatened species but with protection for the whole habitat.
Deb noted that Mother of Ducks Lagoon is not listed as a RAMSAR site because representatives of each wetland type are listed, and Little Llangothlin Lagoon was chosen for upland wetlands.
Participants at the event were welcomed to country by Darrell Ahoy from NSW National Parks & Wildlife Service (NPWS), who noted that the lagoon sits on the border of both Banbai and Anaiwan traditional lands, an area of great significance to both communities.
Darrell also talked about some of the history of the area from an indigenous perspective, sparking a significant number of interesting questions from participants.
Various modifications to the lagoon began in the 1960s and have included drains, levees and overflow pipes, which have significantly altered the natural values of the lagoon.
Douglas Smith (aka Smurf) from NSW NPWS presented some of this history in his presentation.
The final part of the event saw participants get involved in an interactive brainstorm led by Karen Zirkler around the focus question: 'How can we help Mother of Ducks Lagoon to Flourish into the future?'
"We wanted the community to suggest what kinds of activities might attract participation in a new Landcare group if one were to form," said Karen.
"We also wanted to know what community members would like to see such a group doing or achieving in relation to the Lagoon," she said.
In a matter of just 15 minutes, 62 ideas were generated in an enthusiastic response.
"We were very pleasantly surprised by the number of ideas – clearly participants were motivated by our presenters and the information they shared," said Karen.
When asked if formation of a group around caring for Mother of Ducks Lagoon is something the community would like to see happen, the overwhelming positive response was 'yes'.
World Wetland Day on Wednesday 2nd February 2022 has been flagged as the date for a second community gathering lagoon-side to hear from another guest and to take next steps in forming the group.
Anyone interested in being involved should become a member of Southern New England Landcare (free) at https://snelandcare.org.au/membership/become-a-member.html so they receive regular eNews updates about coming events.