Steam trains rides returning to New England in August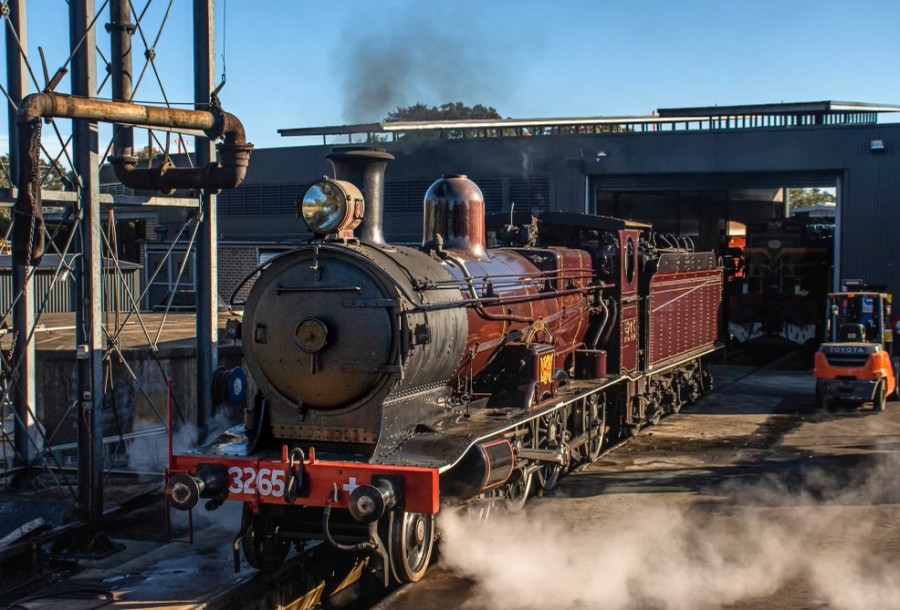 04th Jul 2023
Transport Heritage NSW, operators of the state's rail heritage fleet, is returning steam to the New England region from 11th to 20th August 2023.
Over 5,500 people are expected to take part in the event, which sees historic locomotives 3265 and 3526 embark on a series of steam train rides departing from both Tamworth (12 and 13 August) and Armidale (19 and 20 August).
Transport Heritage NSW CEO Andrew Moritz said this is the first time they have operated a steam train to the New England region since 2015.
"Both the 32 and 35 class steam locomotives were once the backbone of the NSW railways and operated regularly in the New England region for many years," said Mr Moritz.
Built in 1917, 3526's original number was 1314. Reclassified as the 35 class during the 1924 renumbering program, these locomotives were originally known as the NN class, giving rise to the nickname 'Nanny'.
The 35 class 4-6-0 locomotives were built by the NSW Government Railways (NSWGR) at their workshops at Eveleigh. Coincidentally, there were 35 engines in the 35 class. They were intended to reduce the amount of 'double-heading' required for main line express trains following the introduction of heavy, twelve-wheeled corridor compartment cars. With the advent of the 36 and later the 38 classes, the 35s spent the greater part of their lives on northern services.
Locomotive 3265 entered service as 4-6-0 express passenger engine P 584 in 1902. It was renumbered 3265 in 1924 and was equipped with superheating in 1933. The 32 class became known as the "English express locomotives" due to their origin, although some were built in the USA by Baldwin and others in Australia. 3265 was among those built by Beyer, Peacock and Co. in Manchester, UK.
The 32 class hauled a range of passenger services on almost every line in NSW. With 191 members the class were among the NSW Railways' most successful steam locomotive designs.
"While we had the pleasure of operating to Tamworth in 2015, this will be the first time a steam train has operated as far as Armidale in over 25 years," Mr Moritz said.
"We can't wait to offer locals the opportunity to ride behind these two icons of our state's rich transport history."
"Not only will people get to experience the sights and sounds of a genuine steam train, but they will also get to enjoy the comfort of our beautifully restored carriages which date back to the late 1930s."
For more information and tickets, visit the website www.thnsw.com.au/new-england or call 1300 11 55 99.