Lions Club installs new President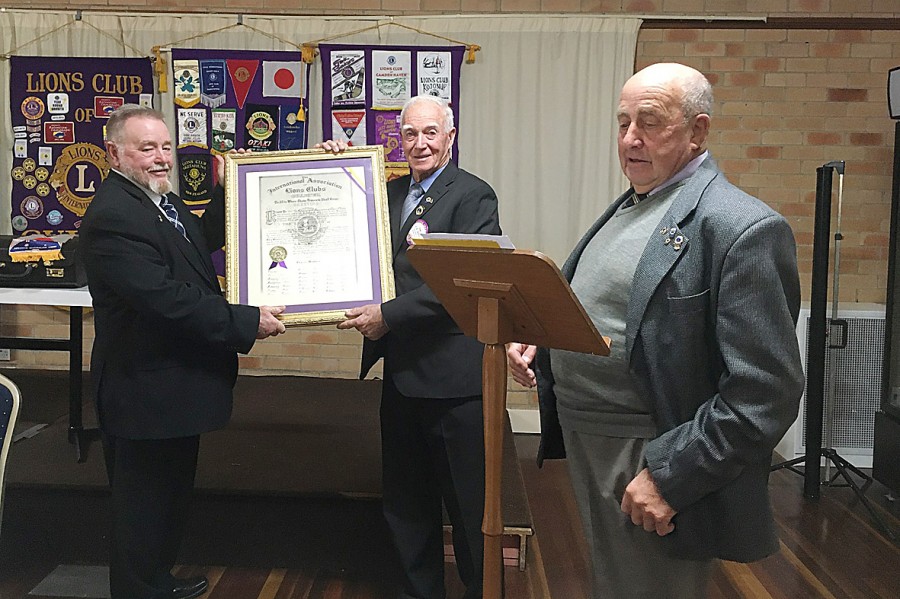 07th Jun 2022
The Lions Club of Guyra held their annual changeover on Wednesday evening June 1st at the Guyra Bowling Club. Zone Chairman Lloyd Levingston installed the new President Jim Betts and his executive for the ensuing year.
In his President's report outgoing President Peter King reflected on the club's 51st year.
"It seems to have flown by faster than expected, probably due to our combined ages. The saddest part was farewelling two longstanding members, Lion Harry Williams and Lion Maurie Rohrshiem.
"Having kicked off the year with some Covid 19 interference we were unable to hold many fundraisers in 2021 but the Christmas raffle was a great success. The Easter raffle was soon upon us and we are grateful for the support of Kirk's IGA management and staff. Our raffles ran very well we were able to add more to the coffers.
"2022 started with a great Youth of the year Quest with three excellent competitors representing themselves and their schools with a maturity and ability far beyond their years. This was followed up with the regional final hosted by our Club with great representation from other clubs within our region.
"In summary I can report we had a successful year allowing us to support all our local sporting and community groups. Finally I'd like to thank all members and their wives and partners for their support throughout the year and wish incoming President Jim the very best in the coming year."
In his final duty as President, Peter presented various organisations and charities with donations. Locally they have supported Guyra Central, St Marys, Bald Blair, Black Mountain, and Ben Lomond Schools. They also made donations to Kolora Hostel, Guyra Youth activities, Can Assist, Troutfest, the Men's Shed, Junior Cricket, Junior Soccer, and Junior Rugby League
Further afield they donated to the Australian Childhood Cancer, Australian Lions foundation, Lion's Cord Blood, Ronald McDonald House, Lion's Clubs NSW-ACT Save Sight and Health Care limited, Lion's Prostrate Cancer Research Foundation, Lion's Club International Foundation, Care Flight, Shine for Kids, Lion's Australia R&A Foundation, and the Westpac Rescue Helicopter.